When:
September 14, 2017 – October 28, 2017
all-day
America/New York Timezone
2017-09-14T00:00:00-04:00
2017-10-29T00:00:00-04:00
Where:
Gallery on Division
158 Division St
Somerville, NJ 08876
USA

Gallery on Division to Celebrate Opening with Inaugural Show on September 14
SOMERVILLE, N.J., September 11, 2017–Gallery on Division, the new fine art gallery located in Downtown Somerville,
announces a reception for its opening show, titled "Conception," on Thursday, September 14. The group exhibition will
showcase the works of eight artists and coincides with Arts on Division's Annual Art Festival, a four-day celebration of the
arts in Downtown Somerville.
"Conception" will run through October 28 at the gallery located on the Division Street Plaza and includes the works of:
Lauryn Ahearn (mixed media painting), Aida Birritteri (watercolor), Laurel Oswald Clark (charcoal on wood panels),
Wendy Letven (painting and paper works), Andrew Molinaro (forged metal), Cynthia Murray (acrylic on canvas), Meaghan
Paice (mixed media painting), and Pat Proniewski (oil on canvas).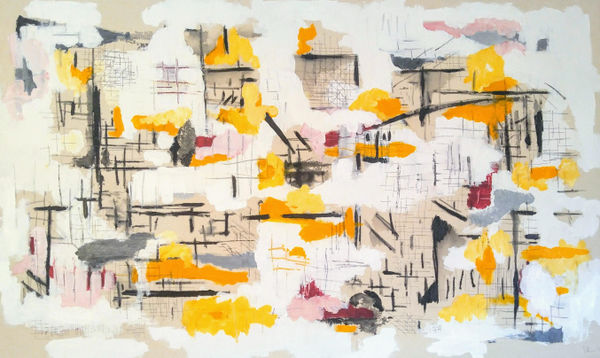 "Conception," the Opening Show at the new Gallery on Divsion will feature works by eight
artists, including this unnamed piece in ink, acrylic, watercolor and graphite on canvas by
Meaghan Denithorne Paice.
"It has been a dream of ours to open a fine art gallery and share our family's love of art with the community," said Gallery
on Division's founder, Ian Cairl. "We're excited to showcase emerging and established artists and offer a venue for friends
and neighbors to experience, connect with, and invest in the arts."
Cairl grew up immersed in the arts. His mother, a fine artist herself, practiced and communed with locally and internationally
known artists throughout her life. After studying art in France and New York City, she settled in Neshanic Station and became
a member of the Printmaking Council of New Jersey, the Somerset Art Association, and the Hunterdon Art Center. Cairl's father,
a true renaissance man, was drawn to music and theater and performed in Off Broadway musicals, managed theater companies,
played the piano, and worked with stained glass and gemstones.
Decades of work as a fine woodworking craftsman has only bolstered Cairl's commitment to supporting art and craft, and
the passion is a family affair. His children play various roles in the new gallery and the family's other Somerville establishment,
Three Hearts Home, a specialty home and gift boutique which also features handcrafted work by independent designers across the
United States and fair trade artisans around the globe.
"Conception" will run through October 28 and many of the artists will be present at the opening reception on Thursday, September 14
from 6 p.m. to 9 p.m. Regular gallery hours are Tuesday – Thursday, 12 p.m. – 6 p.m., Friday and Saturday 10 a.m. – 8 p.m. and by
appointment. For more information, call 908-393-7070 or visit www.galleryondivision.com.
Editor's Note: High resolution photographs available upon request.
ABOUT THE DOWNTOWN SOMERVILLE ALLIANCE
The Downtown Somerville Alliance (DSA) is dedicated to celebrating the spirited atmosphere of the downtown in all projects impacting
the business community. DSA promotes, enhances and revitalizes Somerville's downtown as a thriving commercial district and community-
gathering place for residents, shoppers and visitors. For more information about downtown Somerville, visit www.downtownsomerville.com,
call 908-541-1600 or follow news on social media at Facebook.com/DowntownSomervilleAlliance.