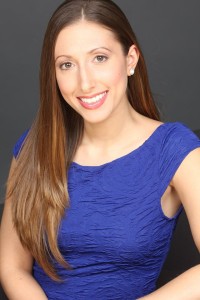 Kimberley Merlo grew up loving the arts and started singing at a young age. She became an avid singer with a deep appreciation and love for music. Kim started writing songs as a child and still continues to do so today working with Alex Morelli Music as a co-writer. High school is where she first became involved in musical theatre and loved the combination of singing, acting and dancing. She's performed in countless theatre productions including musicals, children's theatre and murder mystery dinner shows.  Performing in so many live productions allowed her to enhance her improvisational skills and the ability to connect to an audience. A performance highlight for her was singing The National Anthem at a NJ Jackal's baseball game this past summer.
Another one of Kim's passions is TV Hosting. She loves it because it's a type of performing while still being herself and letting her own personality shine. She loves to learn, try new things and meet new people. She enjoys interviewing people and takes pride in finding ways to relate to them, connect with them and make them feel at ease during the interview. For the past few years, Kim has been honing her on camera hosting skills and has trained with Actress/Host, Brandhyze Stanley and International News Anchor, Patricia Stark. Kim recently had the pleasure of interviewing Ted Allen, host of Chopped, while covering an event at PG Chambers School for Hip New Jersey.
One of her biggest hobbies is traveling. Kim loves exploring new places, experiencing other cultures and of course trying new food – which is why she decided to document her excursions on her web show with Katherine Ernst called Trekking The Tristate. Kim has an adventurous spirit and strives to make the most out of every day.
Kim graduated Magna Cum Laude from William Paterson University with a Bachelor of Arts Degree in Elementary Education and Geography. She is knowledgeable in the field of Finance where she worked for over five years and currently holds the Series 7, Series 66 and Life & Health Insurance licenses.