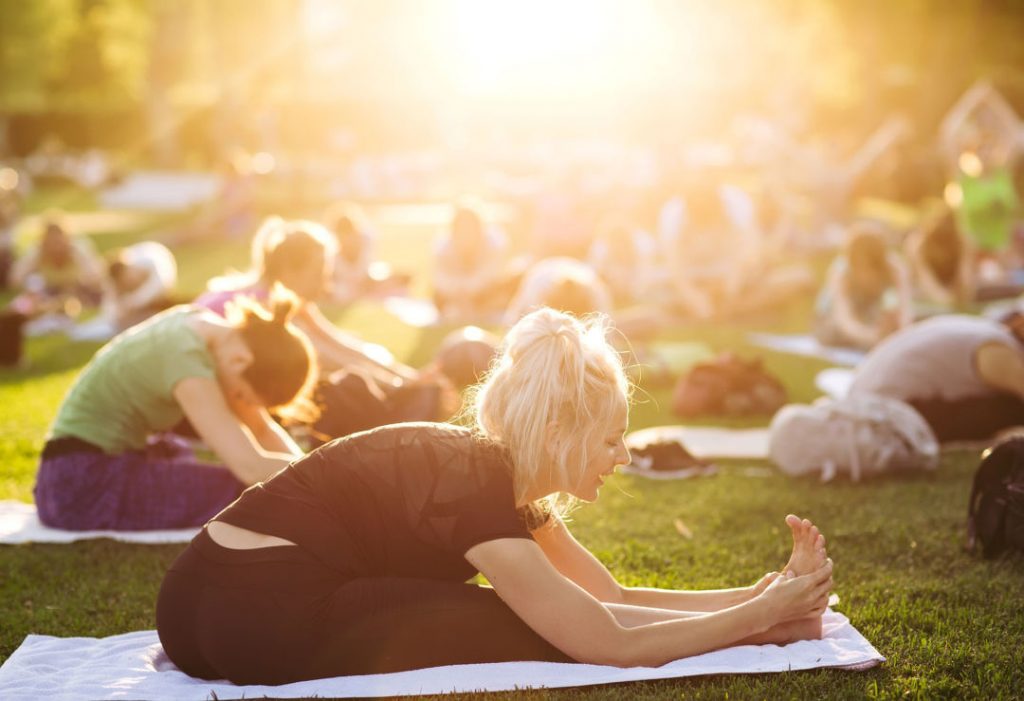 The physical practice of yoga has countless benefits—one of which is to help quiet the mind and reconnect with the body. Coming back to our breath also aids in relieving anxiety, and when we practice outdoors it seems that the benefits are enhanced in a major way.
Spending time in nature can boost the benefits of meditation as well as replenish depleted energy. Ultimately, being in nature grounds us, calms us, and connects us back with our roots. So if you want to get even more out of your yoga practice, switch up your usual setting and take it outdoors. Check out these 5 ideas for an awesome outdoor yoga practice.
1. The Park
A park is the perfect place to practice yoga—there's typically at least one in each community, they're free and there's usually a lot of space to work with! Find a nice grassy area under some trees and you're good to go! You might even choose not to use a mat while you practice. Simply connecting your bare feet to the earth is another incredibly grounding exercise!
The park may even have structures or equipment that you can use to enhance your practice even further. When you're practicing yoga in an unfamiliar public space, be sure to scope it out a bit first to check that everything is safe! According to personal injury lawyers in New Jersey, you could be entitled to compensation if you're injured on someone else's property.
2. A Pier or Dock
If you're near water, a pier or dock are awesome spaces to practice. Moving with your breath as you essentially float over a large body of water is an amazing feeling. The soothing sounds of water can help guide your movement as well.
3. The Beach
Practicing yoga on the beach is as perfect as it gets. Can it really get any better than the ocean at your fingertips and warmth from the sun on your skin? Though the view is ideal and the surface is forgiving if you fall out of something, it isn't all rainbows and butterflies. Practicing in sand can be a lot trickier than it seems. The shifting of the earth beneath you means you'll need to move slowly and with intention, and it's a great way of challenging your balance!
4. Your Backyard
There's no need to get fancy with your outdoor yoga practice—any old backyard will do! Simply being outside is where the benefit of practicing outdoors comes into play. Plus, the fact that it's right outside your home means it's a little more likely that you'll make time to practice there every day—even if it's just 10 minutes at a time.
5. The Balcony
For people in more urban environments who might not have a yard at all, the balcony or porch is the perfect space. Even if your balcony is small, it's most likely just the right size for your mat and a few props. Set up your dream yoga nook so that you'll look forward to getting on your mat each morning. Check out goodhomehealth.net for more healthy tips like the ones above!
For more New Jersey health and wellness, stay tuned to HipNewJersey.com.