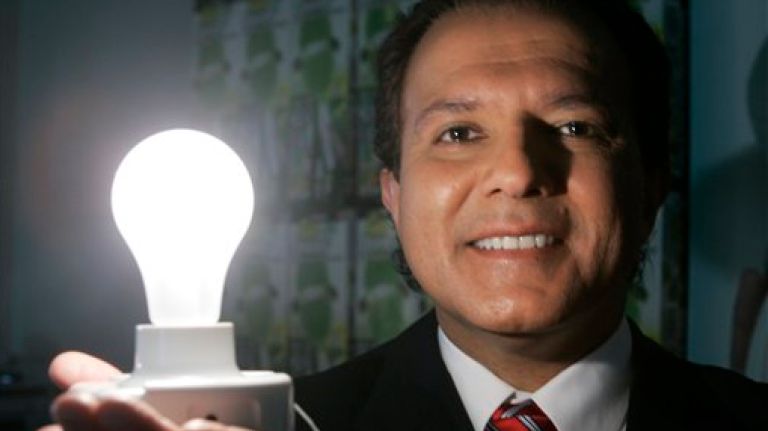 AJ Khubani brought some innovative consumer products into the #HipNJ studio to show Lisa Marie Latino the latest developments from his Fairfield-based company, BulbHead. In addition to the company's e-commerce website BulbHead.com, all of the products displayed in the video are available from purchase through television advertising and in major retail stores like Walmart, Target and Bed, Bath and Beyond.
As far back as Khubani can remember, he loved developing gadgets. The company is in its 35th year of business having launched in 1983 after Khubani graduated from Montclair State. He credits his grim outlook on career possibilities and a bad economy for steering him towards developing the business. Khubani has successfully navigated the evolution of different medias having successfully advertised in print, television and now on social media.
Here are the cool products Khubani brought into the studio:
Engineered for the most comfortable seated experience, the pad is made with a honeycomb design and a sugarcane extract material. The cushion earns its name because you can actually sit on an uncooked egg and not break it!
From the Red Copper line, this product is a double-sided, stovetop press for hugging together sandwiches, paninis and much more.
Another Red Copper line product, the device is a countertop cooker that can be utilized to prepare just about anything. Chicken breasts and omelets are ready in a flash! AJ's favorites are the endless desert possibilities.
BulbHead's most popular product, the PedEgg has sold over 50 million products worldwide since its release in 2008. The tenth anniversary version of the foot file has new features like more micro-files and an 18-karat gold plating for antimicrobial properties.
Developed from the popular features of the best-selling Amber Vision sunglasses, the new version utilizes the same blue-blocking technology and polarization for a crisp, clear view. The glasses are great for minimizing glare and safe driving. Every pair comes with a spare set because you always lose your sunglasses!
This dual-edged knife sharpener is the world's best product for sharpening your knives. The sharpener can renew any knife, even serrated knives. Khubani performed a quick demo for Lisa Marie who happened to have a knife that needed sharpening!
Khubani's passion is making great products at competitive prices. All of the products displayed in the studio can be purchased for less than $40!
BulbHead has a special page for aspiring inventors to submit a product idea for consideration on their website.
Make sure to follow Hip New Jersey on Facebook, Instagram and Twitter to take advantage of upcoming social media giveaways of the products seen in the video!