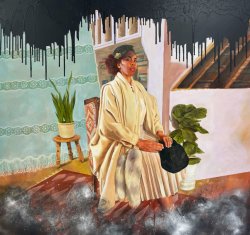 The Montclair State University Galleries will present New York-based artist and filmmaker Ajamu Kojo's Black Wall Street: A Case for Reparations from Feb. 15 to Apr. 23. The artist's first solo museum exhibition is a sanctuary and homage to Black Americans as Kojo reimagines their past.
Black Wall Street: A Case for Reparations is Kojo's ongoing series of large-scale paintings that capture the imagined lives of Black professionals in the Greenwood District before the 1921 Tulsa Race Massacre. The community was dubbed "Black Wall Street" for its thriving culture and wealth in spite of strong segregation laws. The portraits present a spiritually uplifting dedication to the people who called Greenwood their home over a century ago.
Ajamu Kojo is a figurative painter and filmmaker based in Brooklyn. As a scenic artist, his projects include Law & Order, Boardwalk Empire, Vinyl, BULL and more. Alongside working on television and film productions, Kojo also develops independent film projects and fine artwork. His artwork is a critical analysis of social, political and cultural issues through slice of life, voyeurism, and storytelling. Kojo is a native of Little Rock, Arkansas. He majored in film and television production and minored in theatre arts at Howard University.