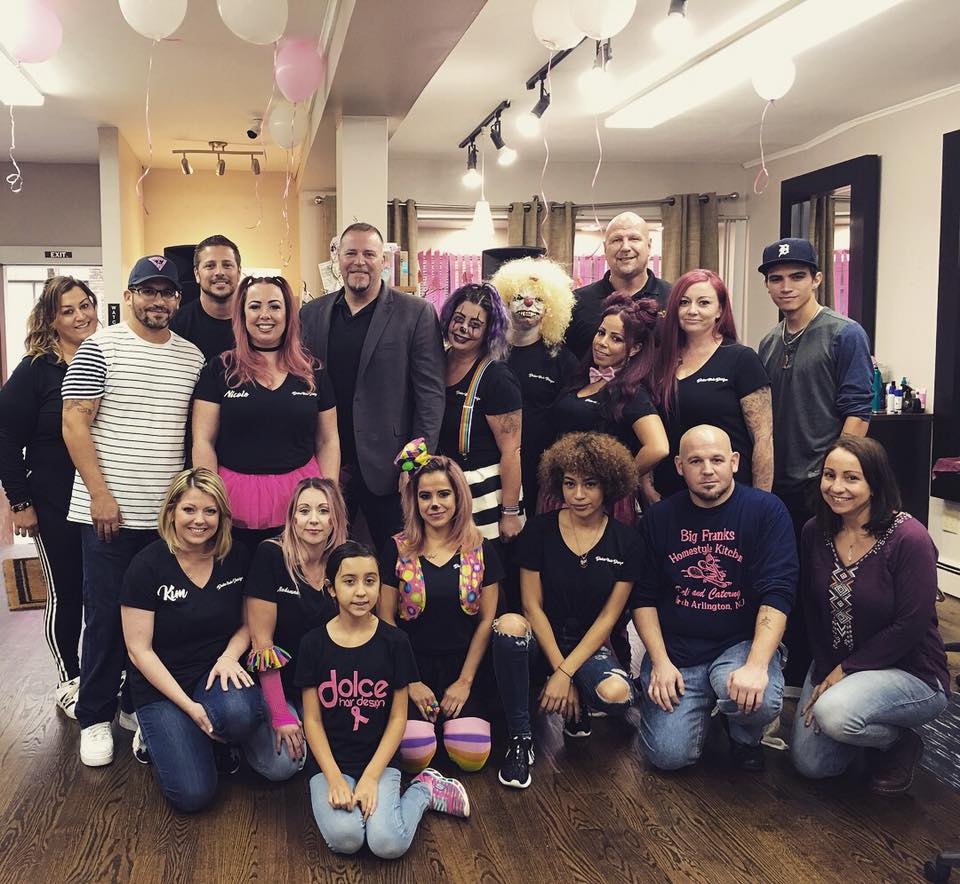 Three years ago, my daughter came home asking for a pink extension in her hair. She wanted the extension since all of her friends had one. Since I'm not one to follow the mainstream, I agreed to let her get the pink extension with a caveat. She had to figure out a way to raise money to donate. My ex mother in law had a mastectomy, and I've had friends diagnosed with breast cancer. For these reasons, this is a cause that is near to my heart.
We took to Google to find a salon that put in extensions. We came across Dolce Hair Design in Lyndhurst. After research, on pricing, etc we found the salon was hosting a Blow Outs for Boobies fundraiser. We stopped in the salon, and after getting her pink extension my daughter made her pitch to owner Nicole Scott. She asked Nicole if she (with moms help) could make and sell cupcakes the day of the event. We would take our proceeds and add them to what the salon raised. Nicole immediately said yes, and there began our tradition of participating in this yearly event.
Blow Outs for Boobies stemmed as a partnership with the Lyndhurst Police Departments Pink Patch Project, which started in 2015. Nicole, and her sister Michele, wanted to get involved because they personally know many women, inclusive of some clients, who have been affected by breast cancer. Not being women to sit on the sidelines, they rallied their amazing staff and got involved in 2016. This is their third year partnering with the LPD and to date have raised over $5000!
The Lyndhurst Police Department is one of the Pink Patch partners, and it's spearheaded by Sergeant Rick Pizzutti. Sgt. Pizzutti uses this as a platform to bring awareness to the disease, while raising money for the John Theurer Cancer Center, in Hackensack. The LPD raises money, and awareness, not just by supporting Blow Outs for Boobies, but also by selling pink patches and tee shirts all throughout the month of October. All proceeds donated to the John Theurer Cancer Center.
This year's event is on Sunday October 28th, from 11am-3pm. Blowouts are $25, and everyone who participates will be entered into an iPad raffle. There will be music, other giveaways and of course pink frosted cupcakes and pink lemonade. Please stop by and get a fabulous blowout, cupcake and enjoy some great music. As always, 100% of the proceeds will be donated.