EDIT: **Check out photos from the event here**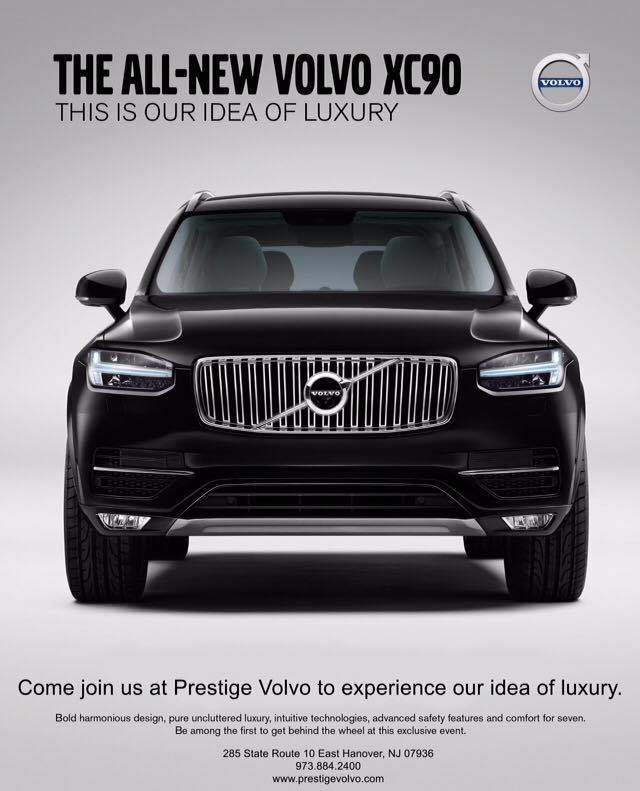 Prestige Volvo of East Hanover, the number one volume Volvo dealership in the United States, will introduce the all-new 2016 Volvo XC90 with a grand reopening celebration on Thursday, May 7 from 6pm to 8pm.
Prestige Volvo will host a lavish celebration to welcome the all-new XC90 with the executive team of Volvo Cars of North America, VIPs, and many guests to the newly remodeled dealership. The festivities will kick-off with a ribbon cutting ceremony with East Hanover town officials. Attendees will have the opportunity to test drive the all-new XC90 and learn more about Volvo's entire new lineup. Complimentary hors d'oeuvres will be served throughout the night, and all guests will have the chance to win a trip to Europe for an overseas delivery that includes two roundtrip airline tickets and hotel accommodations.
The all-new Volvo XC90 is a visually striking, premium quality seven seat SUV with world leading safety features, new powertrain technologies, an unrivaled combination of power and fuel efficiency and a superlative interior finish. The new XC90 marks the beginning of a new chapter in Volvo's history, capturing its future design direction, incorporating its own range of new technologies and utilizing its new Scalable Product Architecture (SPA) technology.
WHAT: Grand reopening of Prestige Volvo to unveil the all-new Volvo XC90
WHERE: Prestige Volvo | 285 State Route 10 | East Hanover, NJ 07936
WHEN: Thursday, May 7, 2015 6:00pm – 8:00pm
RSVP: Prestige Volvo |  973-884-2400
About Prestige Volvo: Prestige Volvo of East Hanover is celebrating 30 years of being New Jersey's premiere Volvo dealer. The dealership was founded in 1980 by Leonard Haiken, and is the number one volume Volvo dealership in the United States. Prestige Volvo has been awarded Volvo's President Club Award every year since 2006. For more information, visit www.PrestigeVolvo.com or call (888) 299-6074.