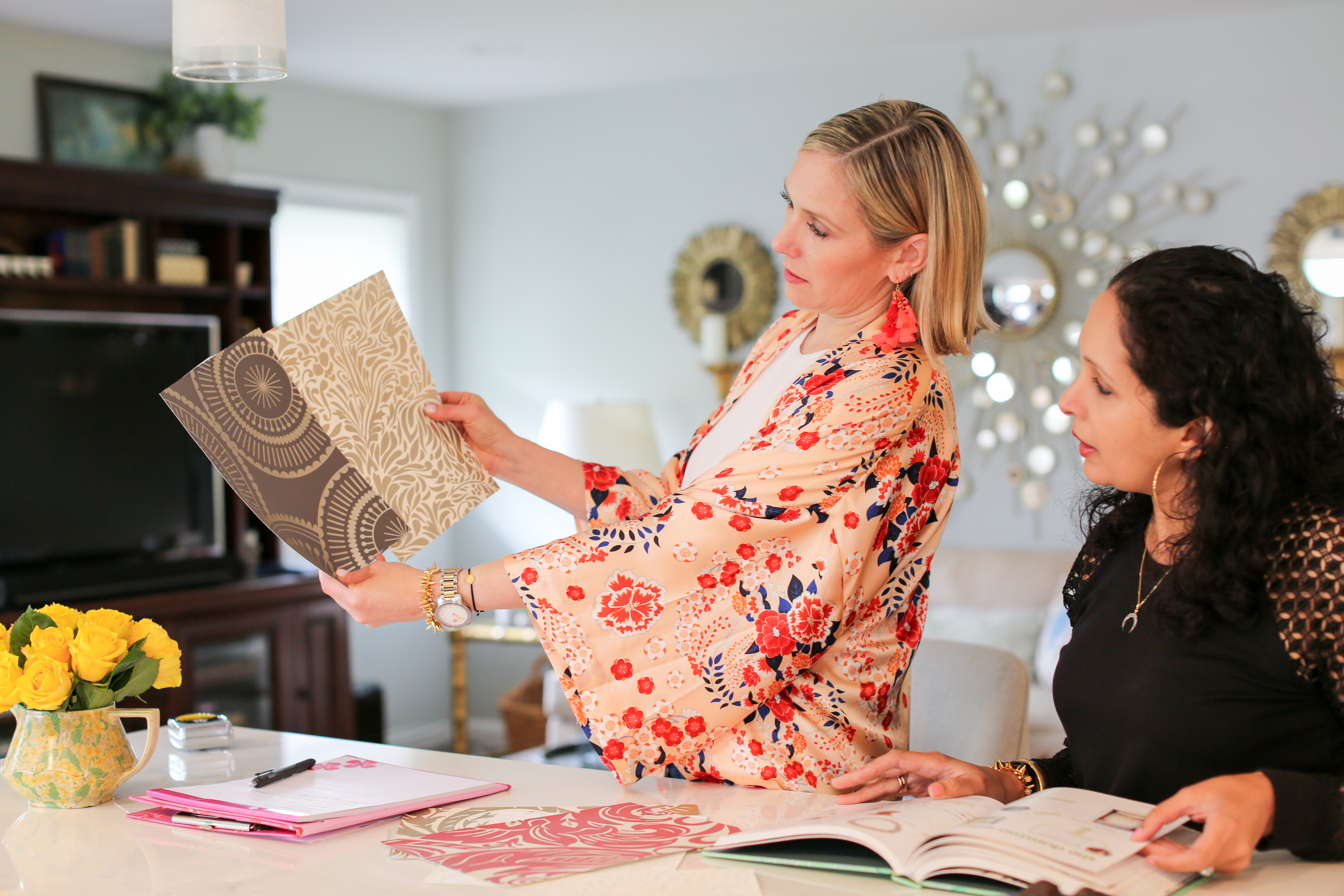 HIP New Jersey's Fabulous Female, for the month of November, is Kate Dawson from West Orange, NJ. Kate is a wife, mom and creative interior designer. She is the founder and owner of Decor Whore!  As a multi-faceted individual, it's no wonder that her story is as colorful as she is.
After graduating from Millikin University, with a BFA in Musical Theatre, Kate decided to move to the Big Apple.  While living in NYC, for 11 years, she performed on Broadway, off Broadway and regionally. Her creative juices continued to flow so she wrote, produced and performed in an autobiographical one-woman show called "The Asshole in My Head".  Not long after Kate became pregnant with her son.
Not being one to sit idle, during her pregnancy she conceived, and co-produced, "Over the Moon: The Broadway Lullaby Project". It was a compilation of original lullabies, sung and composed by members of the Broadway community.  This was in homage to her dear cousin, who had passed away from breast cancer.  A CD and illustrated children's book were released in 2011, and the proceeds were split between the Young Survival Coalition, & the BCRF. Two non-profit organizations dedicated to the research, support and education of breast cancer.
Kate worked off and on, in corporate America, but soon she decided she wanted to try the "stay at home mom thing". She and her family moved to the "burbs", but rather than staying at home her family was thrown a curve ball and she needed to work. She started out working for an MLM, and doing really well, she realized she enjoyed sales and had the capacity to run her own business.
Since she was a little girl, playing with Barbies, in her family's basement (making elaborate floor plans for Barbie and her BFF's) she always had a passion for design and making something out of nothing.  Her mother encouraged her and they would often go to garage sales, vintage stores and antique shops. While attending a women's retreat, with various workshops, she realized that her super power was "finding cool shit at TJ Maxx and Home Goods, and then making all that shit come together to create a beautiful living space".  After a friend, who loved how Kate had decorated her own home, asked her to decorate her office she knew what her calling was.
Kate filed the paperwork, booked a brand shoot, trademarked the name and bought her URL. Her next baby Decor Whore was born! I asked Kate, how in Jesus' name she came up with such a great business name. The answer was very simple, Kate has always thought of herself as a "whore" with everything she loves in life. Whether it's a chocolate whore, clothes whore or movie whore the whore just exponentially emphasizes how much she loves "that". Obviously her passion for home design and decorating made sense for her to name her business what she did.  Kate pointed out that her dear old dad wasn't thrilled with the name of her business, but he's adjusting.
Since officially starting her business in January 2019, Kate's business has become very successful. She attributes her success to the fact that she's very passionate about what she does, and that she has FUN (remember what Oprah says – "Do what you love and the money will come.").  She also believes in fully committing to her clients, and making sure that the finished product reflects the aesthetic and lifestyle of the client.
I asked Kate how as a mom, wife and business owner she's able to juggle it all.  Kate was very blunt that she often feels like she's dropping a ball.  Sometimes life is challenging and stressful, but she's found that meditating every morning helps to set the pace for the day. She also goes to therapy, has a business coach, and listens to inspiring podcasts. Kate also has a supportive tribe of female friends to talk to and ultimately sometimes she just has to give things up. One thing that resonated with me is that Kate's biggest mantra is to be kinder to herself, because she knows she can't do it all.
I asked Kate to gift our readers with some décor tips, for those of us who just need to freshen up our homes. Kate has a very unscientific and completely made up decorating formula she calls "The Four P's of DecWHOREating" – 1)PAINT because nothing changes the feel of a room faster or more dramatically. The power of throw 2)PILLOWS. 3)PICTURES –of places, people, things, or artwork of course! And finally 4)PLANTS – whether real or fake they add life, and a natural element to any room!  If these tips aren't enough and you want Kate's full blown services, reach out to her through her website Decor Whore, or on social media @KateTheDecorWhore .