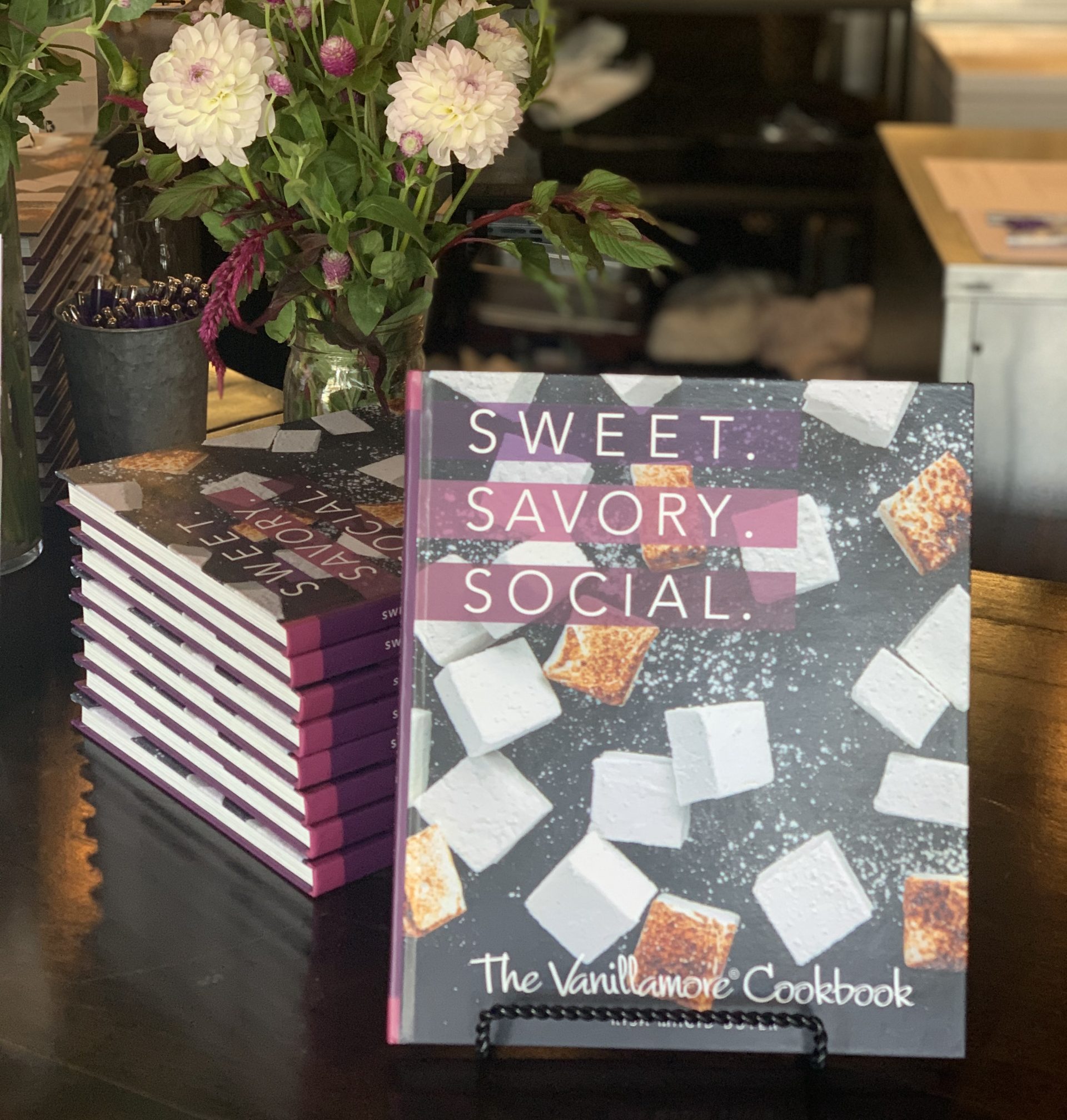 Chef Risa Magid Boyer of Montclair, NJ is bringing fine foods to your kitchen with her new cookbook, Sweet. Savory. Social. Featuring sure favorites like sweet potato gnocchi and raspberry-upside-down cake, the book introduces the philosophy of her restaurant, Vanillamore, to the home chef. She spoke with #HipNJ's Asia Grace about her inspiration, her approach to cooking, and more!
---
ASIA: "What's the inspiration behind the Sweet. Savory. Social. cookbook? The title?"
RISA: "Building out the brand of Vanillamore, as a restaurant and beyond, has always been my goal as a business owner. Sweet. Savory. Social. takes the dining experience that has been created at Vanillamore, and re-imagines it for the home cook.  The title represents the tagline that we use at the restaurant. Sweet represents the core of what we do and where we started. I am a pastry chef by training, and sweets are where my passion for the industry began. As a business owner, I knew that the concept needed to be expanded with a Savory component, which has grown beyond my wildest expectations. Social ties the whole concept together. The community that we have built through the restaurant is what keeps us inspired, and in the cookbook, we explore how to bring that feeling into your home."
ASIA: "Your signature desserts, appetizers/entrees, and entertaining Sweet. Savory. Social. recipes and tips are strategically set up as building blocks from basic to more advanced. Why was it important for you to structure your cookbook this way?"
RISA: "I am a very methodical person, and this is how I build and create menu items at the restaurant. The 'basics' are so important. The cookbook works through building a foundation and then exploring how to make recipes and menu items more unique.  I also have a background in culinary education; I taught recreational cooking classes for several years while working on my business plan. Enforcing some of the most basic techniques gives home cooks the confidence to keep building on those skills to create an impressive spread of sweet and savory recipes."
ASIA: "What are some of your favorite recipes from each section? Why?
RISA: "Each of the recipes that I chose for this book tells a story; it was not easy paring down my master recipe database. Some of my favorite building block recipes are the Vanilla Shortbread & Vanilla Pastry Cream. Both of these recipes have a range of recommended flavor variations, but the vanilla versions are my favorite!  I also love working with confections—Honeycomb Candy, Marshmallows, Toffee, Brittle—just a few ingredients create such a range of textures depending on cooking method and temperatures. Playing with these recipes can make you feel like a scientist!
The savory recipes that I love most include Ricotta, Curried Chicken Salad with Red Grapes, and Chorizo & Figs over Polenta. Many of the savory recipes that I chose to include are inspired by travel. They are all great to serve at a party or gathering, or for a small family."
ASIA: "What are some of the most quick, easy, and yummy recipes us non-chef foodies can try if we're planning to host a fun (and safe) gathering?"
RISA: "On the savory side, I always love doing crostini for parties! They are individual servings, which is great for the current health concerns! The Corn and Avocado crostini is very simple to put together, and many of the toast recipes, such as the Curried Chicken Salad and Strawberry Ricotta, can be put together as crostini. You can also make the Beet Hummus, included with the Buddha Bowl recipe, and cut up some veggies to brighten up your table.
For sweets, so many of these recipes in the cookbook are set up to make individual servings. Any of the cake recipes, made in muffin/cupcake tins are simple and impressive; top them with some whipped cream, or our Mascarpone Mousse, to make them even more decadent."
ASIA: "You opened your popular dessert lounge and restaurant, Vanillamore, in Montclair in 2017. How has the COVID-19 pandemic effected your business?"
RISA: "Many things have changed! When the pandemic hit, and we had to shut down our dining operations, and I was 14 weeks pregnant! We had been planning and discussing how to make restaurant operations work while allowing me to take a step back, have the baby, and take some sort of maternity leave. As time went on, and quarantine continued, our reality shifted drastically. While we were closed for dining operations, we focused on online retail sales (including our housemade marshmallows, signature shortbreads and candied nuts), and we added some items for pick-up only (including flight jars – our dessert flights reimagined as single-serve desserts layered in mason jars).
Once we were allowed to re-open for outdoor dining, we chose to do so on a limited basis, beginning Father's Day weekend. At this point, I was 28 weeks pregnant, so there was hesitation around my and my baby's health and safety, as well as the safety of our staff. With so many unknowns, rehiring was a challenge, we had to restructure our menu to be more efficient since we had limited seating capacity. Also, we had to set up new additional cleaning and sanitation protocols, including decisions around single-use items and what guests would be most comfortable with.
In August, we decided to pause dining operations. Until very recently, we did not know the expected timeline for indoor dining, so we needed to make a decision about our path forward. My goal of working towards taking a step back while the restaurant continued to operate has not been possible. Now, I'm due to give birth any day, so pausing the restaurant life is what's best.
It's very exciting that after a year-and-a-half of working on the Sweet. Savory. Social. cookbook, it is now available for purchase! The timing is perfect because our restaurant guests can bring Vanillamore home and still feel connected to our community and brand."
ASIA: "What are some positive things you learned about yourself as a chef/businesswoman in the wake of the outbreak?"
RISA: "Every day, as a restaurant owner, I have had to be resilient, persistent and flexible. This has been magnified throughout the last several months. I try to find the silver linings in each challenge. Business-wise, one of the biggest silver linings has been the opportunity to finish Sweet. Savory. Social."
ASIA: "What does it mean to you be a New Jersey entrepreneur?"
RISA: "New Jersey has so many amazing towns that support small businesses. As an entrepreneur in this state, I have always felt supported by our community. I grew up going to restaurants in Montclair, so owning Vanillamore in this town has been a dream come true. Through these trying times, our community has reached out in so many ways to offer support through online purchases, joining us for outdoor dining, and purchasing the cookbook."
---
To learn more about Vanillamore—and about Chef Risa—be sure to visit their website! You can grab your own copy of Sweet. Savory. Social. right here.
For everything Garden State, keep up with HipNewJersey.com!
---
Image courtesy of Vanillamore.