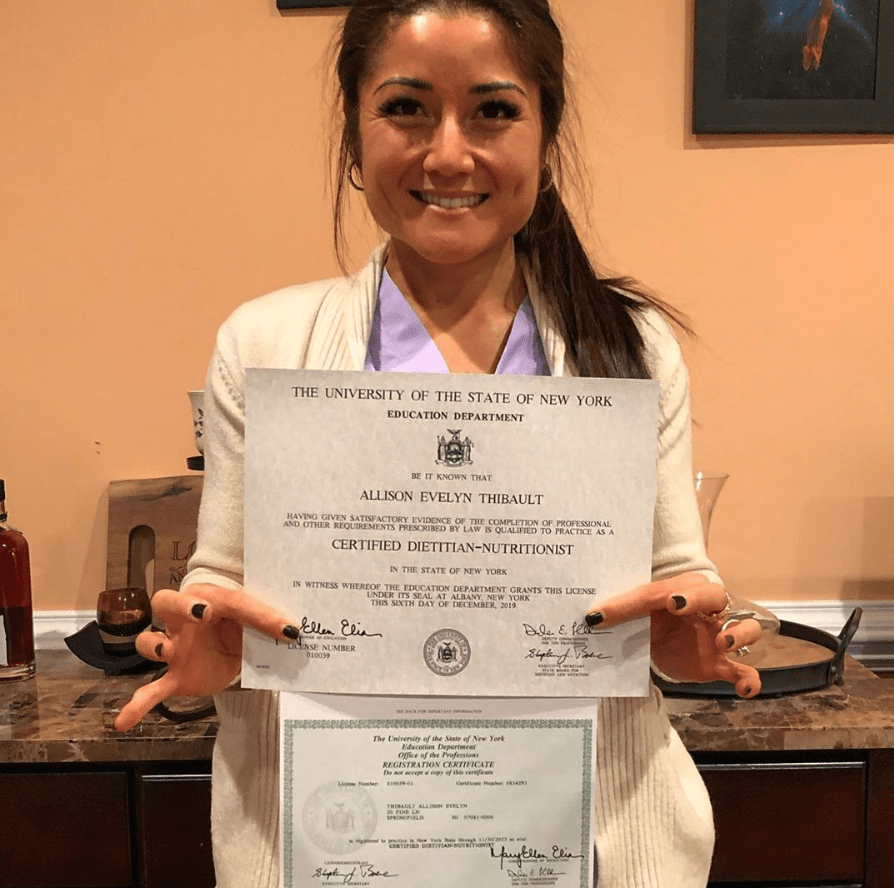 There is no denying that #QuarantineLife has turned our routines upside down. The good news is that one routine we can control is our eating habits. Now that we're forced to stay home, we're not eating out as much, which means no appetizers, second (or third) basket of bread, and we have the chance to be creative with our meals now that we have the time (that we always say we don't have) to cook.
I recently had the opportunity to chat with Allison Thibault, a Licensed/Registered Dietitian Nutritionist who serves our lovely Garden State. She's also a Lead Clinical Nutritionist at RWJ Barnabas Health and the founder of VivaTotalHealth, LLC. Allison is the healthiest person I know and posts the most creative, easy, and yummiest recipes. Now is such a critical time to understand how food can help, and even hurt, our physical and mental health, so Allison is here to explain how we can have the best relationship with food.
Tell us about yourself, how you got your start in the health industry, and the services you provide.
I work with a multi-disciplinary team of doctors including gastroenterologists, wound care specialists, fertility specialists, family care practitioners, and surgeons. I never thought I would be where I am today, doing what I love every minute of every day. I work around the clock. My clients and patients have access to me 24/7. I am grateful for what I do, and it is rewarding to see how nutrition can change an individual's life. In my private practice, some of the conditions I encounter include diabetes, cardiovascular disease, gastrointestinal diseases and disorders, food intolerances, patients seeking weight loss and weight gain, athletes and their specific needs for athletic performance, and those who are looking to make healthier nutrition choices for themselves and their family. I honestly had no idea I was going to get into nutrition. I went to school to play softball, honestly, thinking I would be a school teacher. My father was diagnosed with cancer my sophomore year during my undergraduate studies and it completely changed my life. During that time, I fell into the college diet of poor eating habits, not getting enough sleep, and a little too much drinking. My coach told me to get my act together because I was not performing my best. I went from being one of the fastest players in the New Jersey Athletic Conference to being sluggish and tired. That year was a big turning point in my life and lead me to where I am today. I graduated and continued my studies for another 8 years to be able to have my dream job(s) today. I work privately with individuals in my own practice and clinically with patients while admitted to the hospital, as an in-patient.
What types of patients do you work with in the hospital and how do you help speed up their recovery?
In the hospital, I work with all kinds of patients, which makes my job so multi-faceted, challenging, and life-changing. These include patients admitted for surgical procedures, wounds, infections, arthritis, obesity, respiratory diseases, diabetes, heart disease, hypertension, cancer, and unintentional injuries. My favorite types of cases, because of the complexity, challenge, and where I feel I can make a big difference and contribution to the patients care, include intubated patients on mechanical vents, patients with end-stage renal disease on dialysis and patients receiving Total Parenteral Nutrition also known as TPN, where we have to feed the patient through the vein because the gut isn't working. Those patients are very sensitive and their nutritional status is in your hands. Given the complexity of these cases, doctors rely on the dietitian's nutritional recommendations and orders to help successfully treat the patients who are most vulnerable and most often times with grave prognosis. To help speed up the recovery of patients, I have to individualize care, given the nutritional needs of the patient are specific to their medical history and current medical course. For example, someone with uncontrolled diabetes and acute/chronic wounds because of diet non-compliance need to be properly educated and understand the disease process to be able to understand how and be motivated to help improve the quality of their health and life. It is a part of my job to help make sure the patient feels confident to make healthy diet and lifestyle changes, long-term.
Being quarantined is affecting many people's mental health. Is there a correlation between our mental and gut health?
Quarantine is causing stress in more ways than we know. Many are unable to access food to feed their families, pay rent/mortgages, keep businesses open, and are being let go from their jobs. The body can only take on so much stress before it starts to break down. The gut-brain relationship, which links our enteric and central nervous systems, has the ability to enhance or break down our health. It also extends its communication and controls our hormones, metabolism, and immunity. Our body is so smart and will do anything to protect us. However, psychological stress has the ability to change the way our gut functions. Stress can cause gastrointestinal distress such as bloating, constipation, diarrhea, gassiness, and nausea as well as changes in appetite, mood, cause fatigue and depression. The gut microbiota can be manipulated and there are ways of improving our gut and brain health with healthy nutrition, mindful eating, meditation, yoga, quality sleep, long walks, daily exercise, laughter, and spending time with loved ones.
What is your most important tip for maintaining, or improving, our overall health while being quarantined?
Using this time to take care of what you need emotionally, mentally, and physically is important for maintaining and improving your overall health. During your norm, you may not have been able to complete household tasks, spend time with your kids and family, call back a friend or even spend time in your kitchen to make an intriguing recipe. This is the time to do just that. This quarantine has taught me to slow down and to show gratitude for everything I do have. Who knew that I would turn my home office into my own hot yoga, meditation, and Bar Method room. Moments like these teach us to do the best we can with what we have, even though it may not be under the circumstances that we wish were to be the case. I am finding joy in every day, staying positive in every moment, and smiling at every thought. Change your thoughts, attitudes, and reactions for yourself and others around you. You may be surprised by how you change the atmosphere. Try these ideas to help maintain and improve your over health and well-being.
1. Be more physically active with your family and go for long walks throughout the neighborhood, bike rides through the park, hiking in the reservation, or kick the soccer ball around the yard.
2. Nourish your body with plenty of lean proteins, vegetables, fruits, whole grains, healthy fats and drink plenty of water. Try a new vegetable or food item every week and prepare it in different ways. You may surprise yourself and find a new favorite.
3. Get enough sleep, at least 7-9 hours every night. Think about whipping up an avocado toast with an egg and smoked salmon for breakfast or a quinoa stir-fry with your favorite vegetables and seasonings.
4. Splurge! Bake with your family or make a new dessert. Have fun with it and make it a contest such as who can make the most creative banana split or ice-cream sundae.
5. Slow down and enjoy this moment.
I know I am not the only one who has been making "treats" while home. What are some healthy treats that working parents can make and have accessible for their children while schooling at home?
I love healthy treats!! It is a great way to make food fun, delicious, and nutritious while sneaking in nutrient-dense ingredients to up your nutrition game. You can find some simple and delicious recipes on my website and YouTube cooking channel. Here are some ideas!
1. Berries with drizzled dark chocolate and sprinkled with hemp seeds. This snack includes antioxidants, omega-3's, protein and so much great flavor and texture!
2. Yogurt Parfait: Layer yogurt with granola, chopped nuts, berries, and a drizzle of raw honey. This snack includes protein, antioxidants, complex carbohydrates, healthy fats and a variety of flavors to help you feel satisfied and satiated.
3. Sliced apples with drizzled nut or seed butter, drizzled dark chocolate, sprinkled with hemp seeds. This snack is easy to put together and super filling because of the protein and healthy fat contents that slow down digestion and are great for supporting brain, muscle, and immune health.
4. Homemade protein munchkin bites made with oats, dried blueberries, nut or seed butter, dark chocolate chips, and cinnamon. This treat contains powerful sources of antioxidants to help boost immune system health, help improve mood and cognitive function, help improve and stabilize blood sugar, as well as may reduce heart disease risk.
5. Dark chocolate chip muffins with drizzled coconut butter, sprinkle with cinnamon, and hemp seeds.
6. Chocolate Avocado Mousse made with avocado, cacao powder, maple syrup, melted dark chocolate chips and milk beverage of choice. This treat is full of omega-3's, antioxidants, and fiber. So great for the health of your heart, gut, and brain.
What tips can you share about plating our meals?
How you present and plate your dishes can change the entire experience of your meal. The way your plated dish looks can help contribute to creating feelings of satisfaction and satiety after eating. This is due to the mind and body thinking that you incorporated all aspects of nutrition to nourish and fuel your body. Remember, nutrition is not just about food, but the entire life experience of how you nourish yourself. You may notice that if you restrict yourself too much, it backfires and you may end up snacking more or over-eating after dinner. Prevent that mishap by incorporating lean proteins (3-4 ounces for women and 6-8 ounces for men, however, this changes depending on individual needs), make more than half your plate full of fibrous foods: vegetables, fruits, and whole grains, and be sure to incorporate your healthy fats. Try adding pumpkin or sunflower seeds, dried unsweetened cranberries, or even some roasted chickpeas to your dishes as they add more texture and flavors to make for a more satisfying experience. Lean protein choices include chicken, fish, seafood, eggs, turkey, pork, tofu, dairy, beans, seeds, nuts, and legumes. Fibrous sources include all kinds of vegetables, fruits, and whole grains. Here is your chance to be creative! Make this portion of your dish super colorful and maybe even try a new vegetable a week. Healthy fats include avocado, nuts and seeds, oils, cheeses, and dark chocolate. Yum!
What is your most essential kitchen appliance?
My most essential kitchen appliance is my air fryer. I have had the same one for the past 5-6 years and it works like a charm. It brings some ease into my busy day. It is low maintenance and I don't have to watch over my food as I would if it were in the oven or on the stovetop. It turns off automatically once the timer goes off, which prevents me from burning or overcooking anything. I can hop in the shower, take a phone call or wash dishes without worrying about ruining what's in the air fryer. Foods come out crispy and delicious without the mess. I make all kinds of vegetables, fish, veggie burgers, chicken, and crispy noodles in my air fryer. I love it!
Allison also shared with us a delicious, nutrient-dense, and EASY recipe that requires very few inexpensive ingredients: Quinoa veggie stir-fry over maple cinnamon pumpkin purée. For the full recipe and other healthy meal and snack ideas, visit Allison Thibault's website and YouTube page.
You can also find Nutritionist and Dietitian Allison Thibault on Instagram and Facebook.
For all things Garden State, keep checking out HipNewJersey.com!