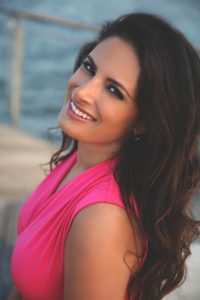 Lisa Marie Latino is CEO and Executive Producer of Long Shot Productions, LLC, a full service video production company based in Fairfield, New Jersey.
Lisa Marie brings her love of creativity, entrepreneurship and all things Garden State to the table in Hip New Jersey. In addition to lending her expertise behind the camera, she also serves as a host on #HipNJ.
Since Long Shot's inception in 2009, Lisa Marie has produced a wide variety of corporate, commercial and entertainment productions.
Lisa Marie and her company have worked with some of the biggest names in Hollywood, business and sports, including Derek Jeter, Gerard Butler, Amanda Seyfried, Matt Bomer, and Maria Bartiromo.
Lisa Marie has appeared on the TLC series "Cake Boss", WFAN Sports Radio's "Boomer and Carton", and SNY's Emmy Award-winning series "Oh Yeah!" Lisa Marie works in- season as a producer for the New York Giants Radio Network. She has also served as an adjunct professor for video production at Seton Hall University.
In 2016, Latino added published author to her lofty resume with the release of her debut novel, Ten Years Later. In 2017, "TYL" won Best Fiction at the Independent Authors Book Expo.
Prior to staring Long Shot, Lisa Marie worked as a producer for PBS anchor Steve Adubato's Emmy-Award winning production company, Caucus New Jersey, and worked as a promotions and marketing coordinator for WFAN Sports Radio.
Lisa Marie graduated from Montclair State University in 2006 with a degree in Broadcasting and Speech Communication, and stays heavily involved with her alma mater.