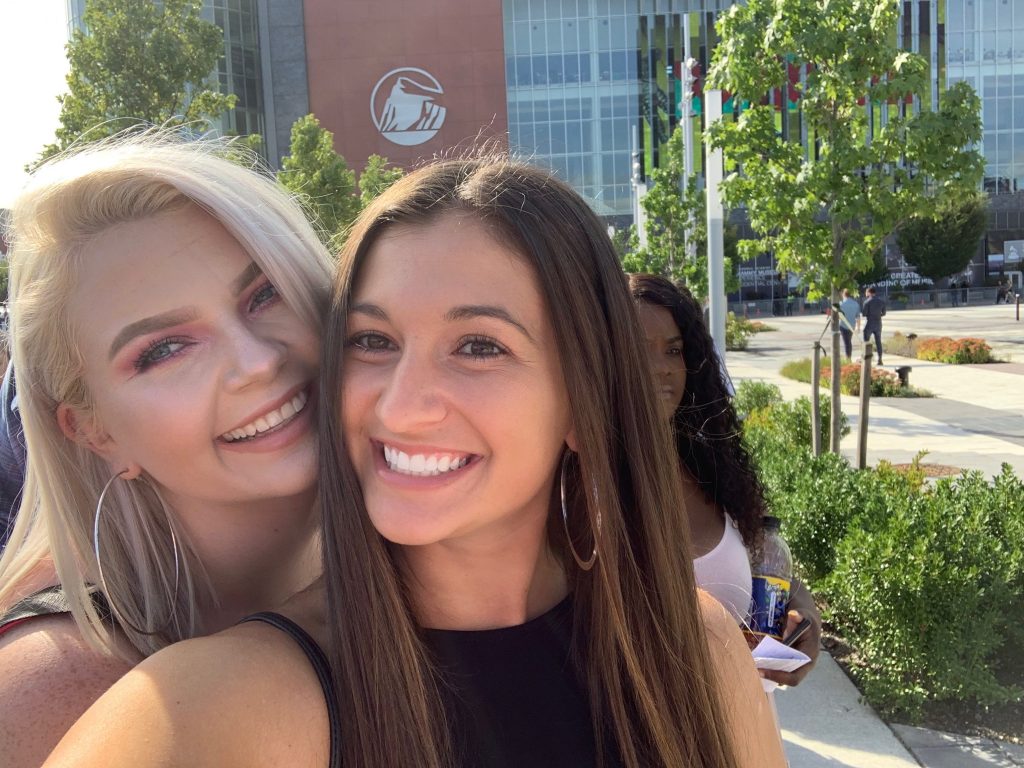 I was fortunate enough to be front and center at the MTV Video Music Awards Monday night at Newark's Prudential Center!
Growing up, my friend Samantha and I would celebrate VMAs night by dressing to the nines and pretending we were going to the show on our private jet. When the opportunity came to actually attend this year's event, Samantha was the natural choice to be my +1.
The electricity surrounding Prudential Center was an energy I haven't felt before; imagine thousands of people enjoying their very best day! Being only 15 rows from the catwalk heightened the experience.
Taylor Swift (who spent her summers at the Jersey Shore growing up) started the show, which was a thrill for me considering I haven't seen her perform in such a long time. Seeing her so up-close made me appreciate the epic performer that she is. Following Taylor was VMAs host Sebastian Maniscalco. He's one of my favorite comedians and to see him in this setting was amazing. My other favorite performances came from Miley Cyrus, who brought down the house with her sadness and rawness with "Slide Away" and Lizzo. Nevermind Lizzo's high energy with "Truth Hurts" and "Good As Hell", but her messages of empowerment and the importance of loving yourself was so inspiring.
Being a part of the Hip New Jersey family, I very much appreciated how much MTV paid homage to the Garden State. The Jonas Brothers, who grew up in Wyckoff, cut a pre-taped segment in Asbury Park. The last performance was an epic dedication to the New Jersey hip-hip scene, with Queen Latifah (Newark/East Orange), Naughty by Nature (East Orange), Redman (Newark), Wyclef Jean (Newark), Fetty Wap (Paterson) and Ice-T (Newark/Summit) blessing the audience with their iconic hits. MTV made sure that even the presenters had a Jersey flair – Victor Cruz (Paterson), John Travolta (Englewood) and members of The Sopranos all gave out awards.
What I didn't expect to be so fascinated by was the production of a live awards show. Watching from home, you don't appreciate all the producers and stage hands running around and making sure everything is on schedule. Every single joke and remark is cued up in giant TelePrompTers for the presenters. They made sure we cheered on cue, and even gave pointers on how to clap (above your head!)
This was the experience of a lifetime and I'm so happy to have been part of such a historic night for Newark and all of New Jersey.