On May 12th, the Yogi Berra Museum & Learning Center hosted over three hundred Museum supporters at New York City's Plaza Hotel for the Inaugural Yogi Berra Museum Awards Dinner. The evening, which was held on the beloved Montclair figure's would be-92nd birthday, saluted individuals who embody the qualities that made the New York Yankees icon an American treasure.
"Although Yogi is no longer with us, the values he lived by are more important today than ever," says Eve Schaenen, Executive Director of the Yogi Berra Museum. "All proceeds from this awards dinner will support the work we're doing at the Museum to sustain Yogi's legacy and the ideals he lived by his entire life, both on and off the field."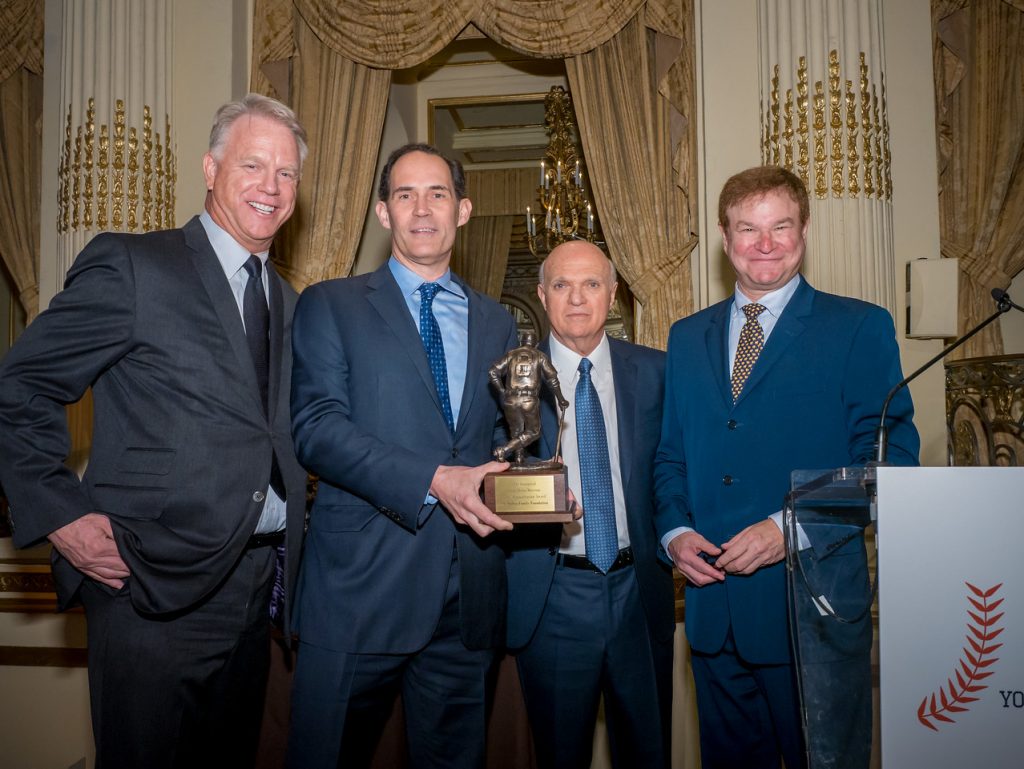 The Museum presented the inaugural Yogi Berra Museum Humanitarian Award to the McMullen Family Foundation for their philanthropic leadership and commitment to community.
The first Yogi Berra Museum Teammate Award went to legendary Yankee pitcher Ron Guidry, Yogi's close companion and mentee.
The first Yogi Berra Museum Service Award went to NFL stars Devin and Jason McCourty for their charitable initiatives.
The Museum also awarded the first Carmen Berra Award to Jennifer Steinbrenner Swindal, General Partner and Vice Chair of the New York Yankees.
His Eminence, Timothy Cardinal Dolan opened the evening's program with an invocation. Then the night's all-star emcees took over: former NFL quarterback and current football analyst Boomer Esiason; and the star of the television comedy series Arliss, Robert Wuhl. The evening concluded with a performance by Jersey Shore mainstays Southside Johnny and the Asbury Jukes, who were joined on stage by Yankee great – and great musician – Bernie Williams!
The event co-chairs were Lou Lamoriello and Finn Wentworth.
The Yogi Berra Museum & Learning Center is a nonprofit sports education organization on the campus of Montclair State (NJ) University. The Museum's mission is to preserve and promote the values of perseverance, respect, sportsmanship and excellence through inclusive, culturally diverse, sports-based educational exhibits and programs. For additional information, please visit YogiBerraMuseum.org.