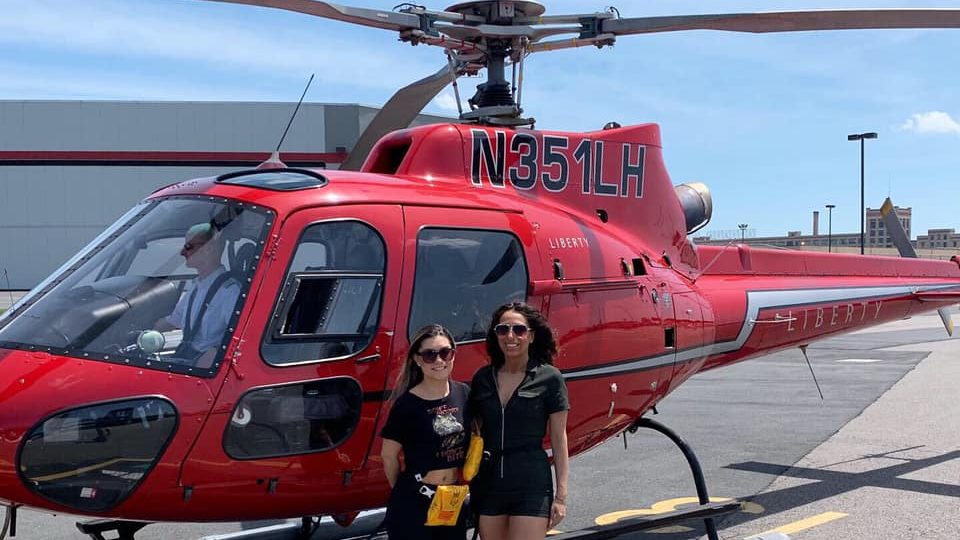 Happy #TravelTuesday!
When you grow up a Jersey gal, with New York City so accessible, you forget to take advantage of all that it has to offer. It's easy to miss out on all of the adventures since you have been staring at the skyline from across the river, completely desensitized to its history and beauty. However, fact is, individuals from across the globe save up their money and travel inconceivable distances just to get a glance at the hustle and bustle of our concrete jungle.
But one thing every New Jersey resident has to remember is that we live next to arguably the most desired capital in the world in our backyard and we often forget to be a tourist in our own home. And there is no better way to be a tourist than we with an authentic, private or group helicopter tour!
Helicopter rides are without a doubt a memorable and exciting experience. It's the new way to fly high in the sky.
Liberty helicopter tours allow you the best seats in New York. From a bird's eye view, you can scope out immaculate views of destinations like Central Park, Ellis Island, the 9/11 memoriam, the Empire State Building and more!
Recently I had the opportunity and pleasure of being chartered on a sightseeing tour through Liberty and I have to admit, with all of the news reports buzzing recently, I was nervous! Although it had been on the top of my bucket list, I was not sure if the risk that I had built up in my head was worth crossing it off.
However, I really did my research before trusting in this service. Their safety records were unparalleled to any other helicopter tour in the area and I really felt their experience and commitment from the moment I walked into the aviation hanger! Amping myself up with music blasting like 'Highway To The Danger Zone' also helped get me pumped for the ride!
During take-off, I say front and center of the state of the art, luxury chopper. As we glided through a beautiful, sunny summer sky, I was offered exhilarating views of Manhattan! It was truly a remarkable and breathtaking moment to soak in the vision of NYC from above. No words would be able to describe it!
Liberty helicopter tours are widely popular and provide custom tours and packages to create a specific journey and visual, personalized for you, your family or friends. The course is up to you, and you can set your compass to anywhere. This makes an amazing gift idea for loved ones or an awesome party package alternative, like for a bachelor or bachelorette group. It's always more intimate to give someone an experience that they will never forget!
Most recently social influencers like Eli Goulding and some NY Giants players all joined in on the action showing off their trips, posting on the Gram- some even boasting of their nighttime excursions, checking out the bright lights of the city beaming! And since Liberty has a top-notch team of operators which have worked with a variety of celebrities, athletes, and the rich and famous – providing a opulent experience, affordable for the 'Average Joe's' like us, it's not unusual to be seated next to a star while you are flying through them!
Fly in style and See the big apple like you've never seen it before.
Make sure to go on their website for more information.
Check out some photos from my time in the sky!