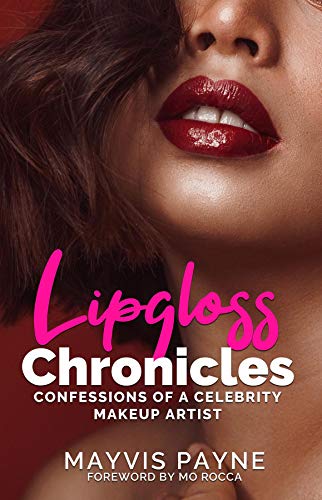 Mayvis Payne dishes on her life behind the scenes as a celebrity makeup artist in her new book, Lipgloss Chronicles: Confessions of a Celebrity Make-Up Artist.
Mayvis took a leap of faith when she quit her corporate job and joined the makeup scene in her 40s. Since then, she's worked on several film/stage/television sets, red carpets, and special events. Those who have sat in her makeup chair over the past 15 years include Kerry Washington, Nick Cannon, Jennifer Holliday, Piers Morgan, the late Maya Angelou, and countless others.
Mayvis is also the founder of LIPLOX/LASHLOX, her own luxury cosmetics brand.
Mayvis ends each chapter of her book with career advice and "Artist Tips" for those who want to follow in her footsteps. The book's Foreword was penned by Award-Winning CBS Sunday Morning Correspondent Mo Rocca. Mayvis was his makeup artist on the Cooking Channel's My Grandmother's Ravioli.
Excerpt From Her Book
"I'm in the business of external beauty, but a beautiful soul should always shine through. Once I was asked what is the one thing that I would say to celebrities, that I wish they all knew. It is this: Forget the egos and royal personas. Never be too famous to be nice."
– Mayvis Payne, author of Lipgloss Chronicles: Confessions of a Celebrity Make-Up Artist (2021)