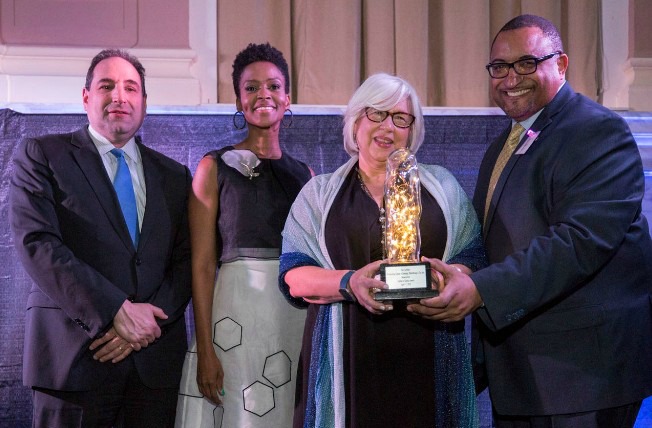 Newark Arts recently celebrated the life and career of Ellen Lambert, recently retired Chief Diversity Officer of PSEG, President of PSEG Foundation and Senior Director of Corporate Citizenship and Culture at a festive fundraiser in Newark.
The venue was transformed into a sculpture garden featuring a specially-commissioned energy-powered work by lighting artist Sunil Garg. The one-of-a-kind fundraising event highlighted Lambert's career as an advocate for women, underserved populations, social investment and the arts.
"What an honor it was to be recognized as a champion for diversity both in the corporate sector and in the arts," Lambert said. "I am quite pleased to have been a part of this exciting event to raise much needed dollars to support the arts community in Newark."
Funds raised will help sustain the non-profit's efforts to support community-driven initiatives. The organization is well-known for the Open Doors Citywide Arts Festival, an annual fall tour of public and private art spaces, studios and galleries across the city.
Newark Arts has awarded over $500,000 in grants to neighborhood individuals and local organizations through the ArtStart program. Newark Arts is also the incubator of the Newark Arts Education Roundtable, a strategic alliance of 80+ arts education stakeholders, who ensure that Newark early learners and students have equitable access to high quality, sequential arts education opportunities.
When asked to reflect on the event, Newark Arts Executive Director Jeremy Johnson said, "There is no more deserving honoree than Ellen Lambert. Her career is a testament to the power of diversity, and Newark Arts has always been at the forefront of diversity in the arts."
To learn more, click here.