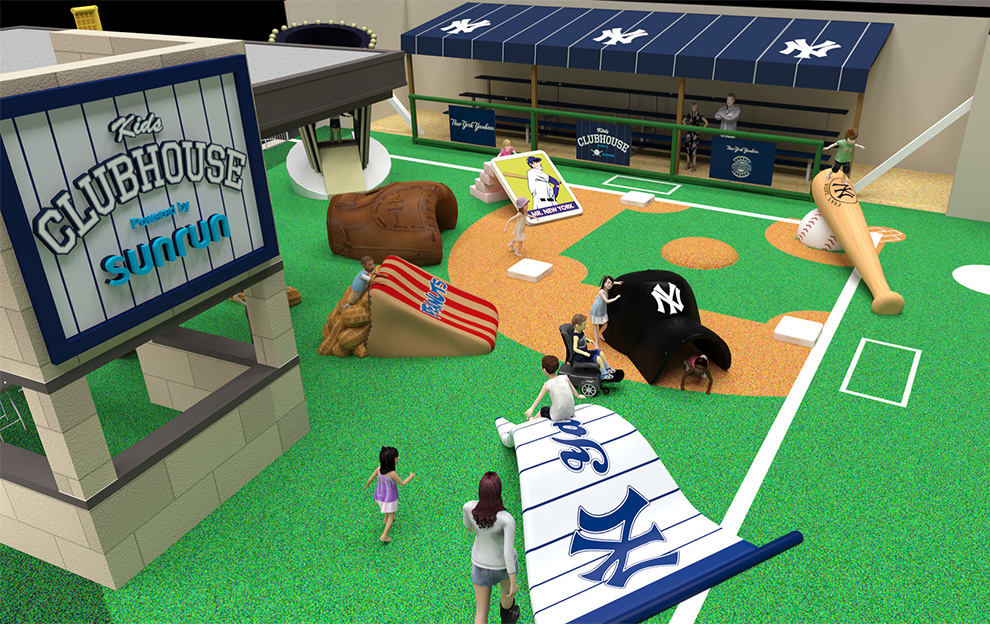 Take #HipNJ out to the ballgame!
When diehards flock to Yankees Stadium for the New York Yankees home opener on April 10th, they'll be cheering for more than just the Bronx Bombers versus Tampa Bay Rays. The team recently unveiled a slew of exciting social gathering spaces and concession options that will entice even the most ardent anti-sports fan!
New Stadium social gathering locations include:
SUNRUN KIDS CLUBHOUSE: The Sunrun Kids Clubhouse will be Yankee Stadium's first-ever children's zone. Shaped like a mini-baseball field with a soft artificial surface, the 2,850-square-foot area is located on the 300 Level in right field and outfitted with Yankees-themed playground equipment, including oversized baseballs, bases and baseball cards, a 6-foot-high replica World Series trophy and interactive exhibits. Parents can join their children on the play area or choose to oversee them from a nearby dugout. Television monitors will ensure that no one misses any game action. On warm days, a retractable shade can be extended to cover the play area. The Sunrun Kids Clubhouse also includes two family restrooms equipped with changing tables. The new #HipNJ mom will be happy to know they will have additional private space, including lounge chairs, a television and power outlets for those using electric breast pumps.
MASTERPASS BATTER'S EYE DECK: Located on the 200 Level in center field with a clear, sweeping view of the entire Stadium, the Masterpass Batter's Eye Deck has been expanded to 3,500 square feet and includes drink-rails overlooking the field. This outdoor gathering space will feature craft beers, cocktails and a large selection of food options. We're salivating over their new food features including The Mutz, which is a hand-pulled mozzarella sandwiches with mixed vegetables!
BULLPEN TERRACES: Frank's RedHot Terrace (overlooking the visitors bullpen in left field) and the Toyota Terrace (overlooking the Yankees bullpen in right field) are open-air social gathering areas on the 100 Level. Each terrace features its own specialty food and drink options. Drink-rail locations at the landings will have power/USB outlets. As a result of this reconfiguration, all obstructed-view seats in the Bleachers have been removed. We can't wait to try the Frank's RedHot Chicken Diablo Sandwich featuring grilled chicken breast, Frank's RedHot sauce, blue cheese! We also love how our vegetarian friends are included in the mix, with the introduction of the Crispy Buffalo Cauliflower Bun with celery slaw and creamy blue cheese!
BUDWEISER PARTY DECKS: Located in Sections 311 and 328, Budweiser Party Decks feature shaded stand-alone bar areas serving beer, cocktails and food. Drink-rail and barstool seating provides fans a relaxed and casual setting from which to enjoy sweeping views of the field and game action.
AT&T SPORTS LOUNGE featuring DirecTV service: The new AT&T Sports Lounge featuring DirecTV service at Section 134 on the Field Level includes a full bar with craft beers and cocktails. Tables, stools and large-screen televisions tuned to the Yankees broadcast and other live sporting events provide a sports-bar atmosphere on the Stadium's main outdoor concourse in left field. Additionally, power/USB outlets are available for charging phones or tablets.
Before crossing the GWB, download the Yankees Stadium dining guide and receive more information on its new amenities at Yankees.com/Eats.