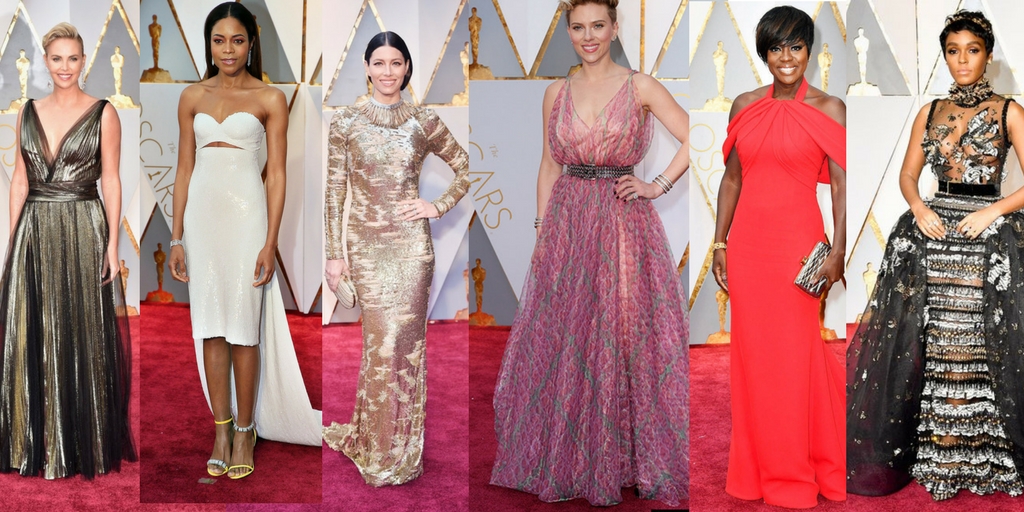 ---
At Hip New Jersey we understand that not all of us can afford the beautiful gowns we see on the red carpet. This inspired us to create the fabulous looks for an affordable price at Bloomingdale's.
The first look was inspired by Charlize Theron. Her metallic Dior gown shined on the Oscars red carpet. The Halston Heritage dress, available at Bloomingdale's, conveyed it's own version to this fabulous Dior dress. Fashion is about making a statement and Charlize Theron was not afraid to mix the metallic look with long diamond earrings. Her glow didn't end with the dress, her skin was luminous and flawless. The Dior dreamskin serum is a great way to capture the glow we all aspire to have!
The second look made us so ready for the Spring! Scarlett Johansson's Azzedina Alaia's floral dress was a breath of warm air! Johansson had a balance of looks by wearing a light and charming gown with the exposure of her tattoos, her short edgy hair and her black studded belt. Bloomingdales took the this look and created a two piece fitted dress that paired with a black leather jacket. Her peachy toned blush lead us straight to a beauty favorite Nars' orgasm blush that is available at Bloomingdales.
The third look was Jessica Biel's floor length Kaufman Franco gown that shined almost as bright as her and Justin Timberlake's love. Not only were we awing about their relationship we were awing over her remarkable Tiffany collar. It matched perfectly with the gold and silver colors in the gown. Bloomingdale's used a shimmery gold long sleeved gown to create this look and piled a few necklaces together for an imitation Tiffany collar.
The fourth look was a classic red gown worn by the classy Viola Davis. The dress was red and flat toned without the glitz and glamour but held its own with the off the shoulder and around the neck dimensions. This definitive look was created using a Bariano Australia off the shoulder dress. A flat red it's easy to pair it with accessories and loud jewelry, but Viola Davis instead used her makeup to accent the dress. A way to capture the luminous look is to grab the Nars, Supervixen lip gloss that has a popular rose gold base.
The fifth look Naomie Harris' was wearing prepared us for the light feel of Spring-time parties. Her fresh white Calvin Klein dress was detailed with a slight slit under the heart shaped breast line and had a high low dynamic. The sophistication of the dress was increased by the middle part in her straightened hair. Naomie Harris' lack of color in the dress was evened out by her rustic brown eyeshadow. The Chanel LES 4 OMBRES eyeshadow pallet in 268 is a great way to capture that taupe and shimmery look.
This sixth look was a risky one! Nicole Kidman's porcelain skin could have been washed out by the nude color of her Armani Privé dress but it worked together wonderfully. The paleness of the dress was accented by it's enchanted designs throughout. Bloomingdale's take on the dress used an Aidan Mattox dress that resembles the elegant look Nicole Kidman had. Her red lip was also a fabulous way to add some pop! The Bobbi Brown imperial red lipstick establishes her red lip nicely.
The seventh and final look we were inspired by was the Elie Saab couture dress Janelle Monae wore. She took the glam to the next level with this look! Monae was covered in jewels. Her hair, her neck and her dress all had a flash to it. Her cute pixie cut look went well with of the whole outfit. Her makeup was filled with glam as well. The Charlotte Tilbury's golden goddess eyeshadow pallet is a great product to use to get that glam look.