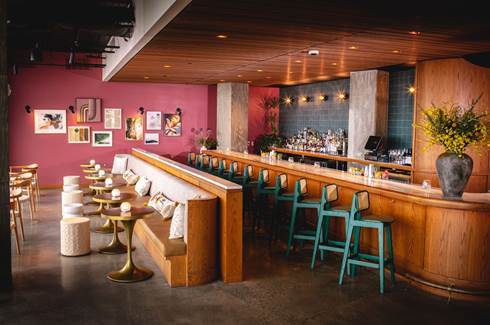 After taking over operations of Long Branch's chic beachfront getaway, Wave Resort, Salt Hotels has launched the property's signature restaurant MAYA. With renowned New York-based chef Nina Clemente at the helm, the airy new concept transports the Mediterranean ethos to the shores of the New Jersey coastline.
Born in Italy and raised in New York City, Executive Chef Nina Clemente realized the possibilities of transforming local ingredients into Southern Italian feasts through watching her mother make traditional, delicious and seasonal cuisine. These childhood experiences inspired her to make food her career, striving to bridge both cultures from her upbringing through her cooking – preparing delicious food, and reveling in the memorable gatherings that her food inspires. Chef Clemente's resume includes stints at top restaurants across the globe, including Osteria Mozza under Nancy Silverman; The Standard, High Line; The Smile Group, and at bygone restaurant Maya under Chef Maya Gurley, a staple in St. Barths for over two decades that serves as the inspiration for Chef Clemente's newest venture.
Influenced by the tastes of the Mediterranean coastline, Chef Clemente imbues her passion for fresh, clean cuisine into the menu at MAYA.
"I want to serve food that makes you feel good – food that you can eat multiple times a week, that leaves you feeling satisfied, and that incorporates the fresh ingredients of the region. Local oysters, Jersey tomatoes, fresh corn; you'll find it all on the menu," Clemente said. "My family has always taught me to see food as the anchor for friends and family to gather around a table, share their stories, and create memories."
Executed by Executive Chef Dan Schreiber, the menu highlights local ingredients in dishes that incorporate Southern Italian ethos along with seasonal Jersey produce and fresh seafood. MAYA's flavors are delicious, elegant and inviting. Each meal is clean, colorful and vibrant on the palate. The food nourishes, is beautiful to look at, and tastes great.
With outdoor seating overlooking the ocean, MAYA's breezy indoor-outdoor design invites guests to linger along the beachfront. Designed by Salt Hotels Chief Creative Officer Kevin O'Shea, décor and color schemes were inspired by the Mediterranean ethos, featuring deep reds, earthy greens, touches of raw concrete, and hand-glazed tiles. The 70-seat dining room is a clean modern and minimalist space, with a palette centered around ashwood chairs and marble tables, under the soft glow of frosted globe lights dotting the ceiling. The bar and dining room is finished off with lush plantings framing the spectacular views of the Atlantic and beyond.