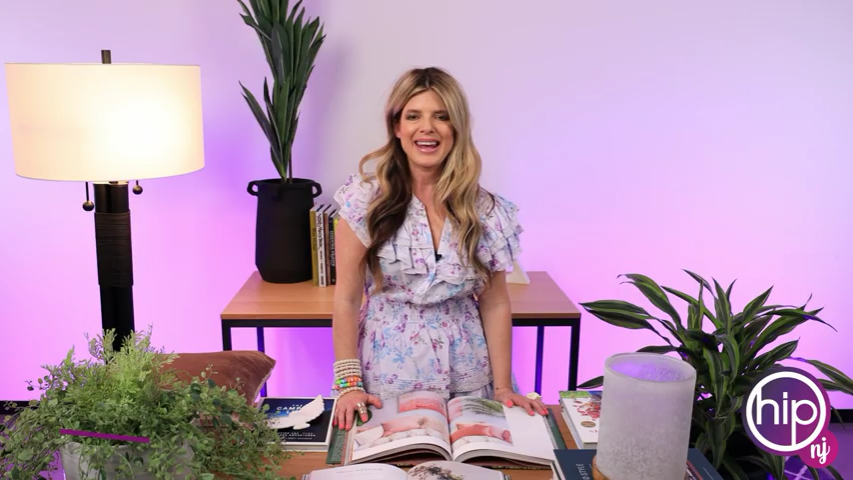 Are you redesigning the inside of your house? Are you trying to create a warm atmosphere that reminds you of nature? If so, you're in luck.
Heather Zwain of The Bergen County Bible recently returned to #HipNJ, and she showed off some spring home décor.
Last time Heather came to the studio, she showed us spring fashion from the MarketFair in Princeton, NJ. The items she displayed during her recent trip were also from MarketFair stores: Barnes & Noble, BoConcept, and Pottery Barn.
The first Pottery Barn item was a plastic fern. Fake vegetation is perfect for those who love plants but don't have a green thumb. Potted plants like Heather's fern can help you bring nature indoors. The second Pottery Barn item was a frosted glass vase with a wooden base. The glass cylinder was large enough to carry a bouquet of flowers or a large candle.
The first BoConcept item was a velvet pillow. The second BoConcept item was a wall decoration shaped like a bird. The stone bird was white with a smooth surface. It could be hung on the wall or displayed on a shelf or table.
Heather brought in a large collection of books from Barnes & Noble – books that look good when on display, and books that are entertaining and informative. Among the books Heather brought in were books on flower arranging.
Heather hopes spring home décor will make working at home during the COVID-19 pandemic nicer.
"It is more imperative now than ever to have this very inviting, comfortable space that you can work and live in," Heather said. "We are in our homes more than ever."
Be sure to follow Heather (@HeatherZwain) and The Bergen County Bible (@TheBergenCountyBible) on Instagram. You can also follow MarketFair (@shopmarketfair), Barnes & Noble (@BNPrinceton), and BoConcept (@BoConcept_official).