By: Lisa Marie Latino
My loved ones know that my taste in music bends towards the sweet side (I mean, it's 2018 and *NSYNC was just playing on my iTunes), so I raised more than a few eyebrows when I told them I was seeing Bruce Springsteen's wildly successful Springsteen on Broadway. As I explained to their shocked faces, I was merely going to support my fiancé Joe in his Bruce fandom, and far be it for me to skip out on a fabulous New York City summer night that would also include dinner at Capital Grille.
After winning the coveted ticket lottery for the show, Joe made sure to give me a crash course on E Street Band lore so I wouldn't be like the clueless bandwagon fans I despise during New York Yankees playoff runs. On our way to our favorite weekend getaway spot, we listened to Bruce recite the words to his best-selling autobiography, Born to Run. While some of his music may not have been in my wheelhouse, the man's writing CERTAINLY was. I appreciated the way he poetically strung together his words so that every sentence would appeal to the five senses. Hearing him tell his tale made the prose all the more powerful.
Upon the book's conclusion, I started diving into The Boss' catalogue. Of course I knew his too-many-to-name mainstream hits like "Hungry Heart", "Human Touch", "Glory Days", "Streets of Philadelphia" and "Secret Garden" (what Jersey Girl doesn't?) But I discovered other "obscure" ones—songs like "The Ghost of Tom Joad", "Dream Baby Dream", "One Step Up", "Downbound Train", "The River", "Atlantic City" and "Trapped". As I filled my iPod with these tunes, I admitted to Joe that he more than proved his point on why Bruce was the rock 'n roll G.O.A.T.
The buzz in the air was palpable as we took our seats in the cozy confines of the Walter Kerr Theatre. We were surrounded by all walks of life from around the country, if not the world. People that were seeing Bruce for the 10th time, 30th time…and probably no one else there for the first (oh well). But it didn't matter; once the house lights dimmed and he sauntered from stage right with his guitar, we were all one in our awe.
From our proximity, it literally felt like this living legend was hanging out with us in our living room, especially whenever he stepped away from the microphone to just be out in the open. Once the music started (first song: "Growing Up") it gave you that pushed-off-an-airplane-without-a-parachute exhilarating feeling. For over two straight hours, he effortlessly went from storytelling, to cracking jokes, to making you cry, to singing along with his piano, to jamming out with his array of guitars, to strumming his harmonica, and back around again. Every song was reworked to fit the show's acoustic nature, including the two he performed with his wife, Patti Scialfa—"Tougher Than the Rest" and "Brilliant Disguise"—and my personal favorites, "Dancing in the Dark" and "Born in the USA".
What was evident beyond Bruce's difficult relationship with his late father, and his great affection for his mother, is his complicated love story with New Jersey. In one breath, recalling the lyrics to Born to Run, he talked about how he viewed his hometown of Freehold as a "death trap" and a "suicide rap" but in the next, mentioned how he currently lives 10 minutes down the road. "I was born to stay home!" He joked. He peppered other Garden State references throughout the show, like how he cut his chops playing for obscure, Jersey Shore-area places like Marlboro Mental Hospital. These "growing up" Jersey (and Italian-American!) anecdotes added another layer of intimacy to an otherwise already-vulnerable performance that included a moving tribute to Clarence Clemons and a reciting of the Our Father.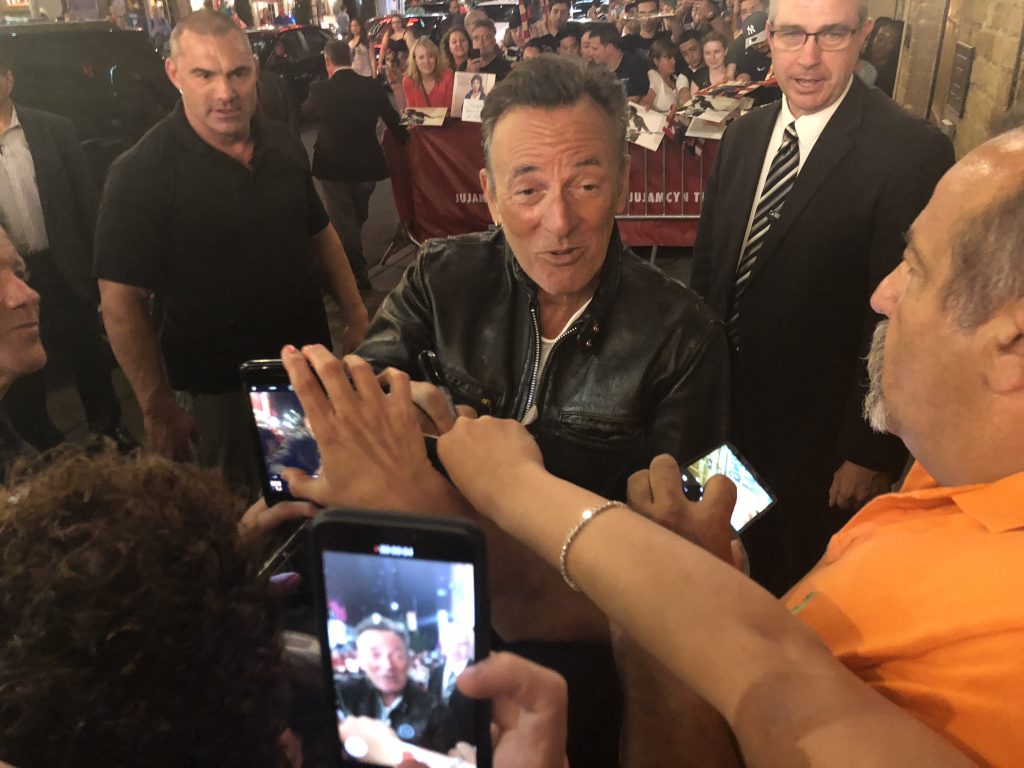 After the show, I made a beeline for the stage door in the hopes to meet him. As luck would have it, I got a prime spot behind the metal barrier, and he chose my side to bless with his presence.
As I stuck the Playbill out for his signature, I told him how Springsteen on Broadway was the first time seeing him live. Bruce actually stopped signing for a second to react.
"Really?" He quipped, part amused and part shocked.
"I know, and I'm from Jersey too. But I LOVED the show, you were great!"
"Well, I'm glad you enjoyed it," he smiled, and continued down the line. That was the cherry on top of a perfect evening.
Of course, I gave the signed Playbill to Joe.