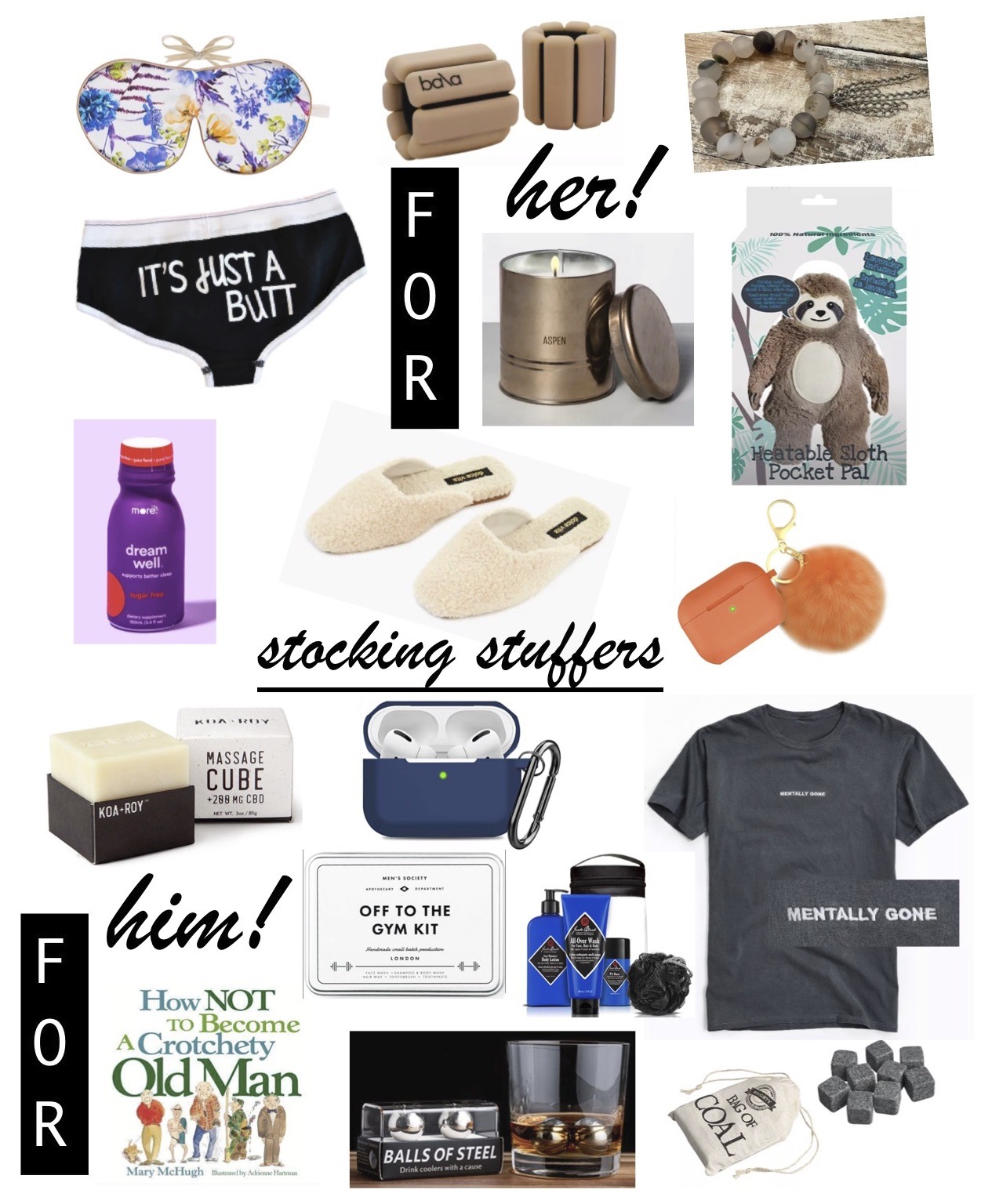 Need some last-minute ideas for stocking stuffers for both men & women? I got you covered! Here are some unique, fun options to keep gift-giving interesting this year. And it just so happens that these gifts fit, oh so perfectly, inside of a stocking!
Stocking Stuffers For Her
Isadora Eye Mask $90
This gift is perfect for sleeping beauty. Filled with lavender, this holistic silk eye mask will most definitely come in handy for a good night's slumber. Plus, she'll rest easy knowing she's in style as she drifts off to sleep in this floral print!
https://www.amara.com/us/products/liberty-print-silk-eye-mask-bloom
Shearling Slippers $50
Step into comfort and warmth in these oh so chic house slippers. They are oh so cute that you just may want to wear them in public!
https://www.tnuck.com/natural-shearling-saydee-slippers-0.html?gclid=CjwKCAiAlNf-BRB_EiwA2osbxfWcA0_mO62IVtGfZ99GNzJKwtDfrkB4sQfLPpO44yLkA7qwr8RCNhoCuZQQAvD_BwE
Bala Bangles (set of two) $49
For the fitness fanatic, these stylish bangles will look fashionable while also serving a purpose. Toned arms anyone? Keep these on all day long and watch the definition in your arms appear! Even better, they can go around your ankles for added weight while working out!
https://shopbala.com/products/bala-bangles
Tin Candle $14.99
Who doesn't love a candle? Better yet, who doesn't love Chip and Joanna Gaines? Their Magnolia candle will leave you dreaming of a winter spent in Aspen.
https://www.target.com/p/holiday-tin-candle-aspen-hearth-hand-with-magnolia/-/A-80414163?preselect=79678448#lnk=sametab
Dream Well $36
Not a good sleeper? Well, this drug-free, natural sleep aid is designed to ease your mind so you can fall asleep and get a much better rest. Plus it has all the organic vibes people look for now-a-days caffeine free, botanical ingredients, gluten free, soy free, nut free and vegan to leave you falling asleep quickly and waking up restored.
https://www.morelabs.com/products/dream-well
Heatable Huggable Sloth Pocket Pal $12.75
For the girl who is always cold, this may help with that! This cute little snuggle buddy can be stowed away in your bag and will be there to keep you warm on the go. Perhaps it will help in the office because no matter what season it is, it always seems to be freezing in the building all year round! Leave it on your desk as décor and grab when your fingers become numb! Plus, it may make for a good conversation starter?
https://www.kohls.com/product/prd-4504382/heatable-huggable-sloth-pocket-pal.jsp?skuid=63995563&CID=shopping15&utm_campaign=GIFTING&utm_medium=CSE&utm_source=google&utm_product=63995563&utm_campaignid=9733267177&gclid=Cj0KCQiAzsz-BRCCARIsANotFgPrPoKbDVs90vBblDGBUhK9yyT7SwFoCNF89hgihZdBmJVHSlux1LMaAnN-EALw_wcB&gclsrc=aw.ds
Airpods Pro Case $9.99
This is super cute and the quality is great too! I know because I already bought one for my sister and she loves it! It comes in so many vibrant colors and is the perfect accessory for your accessory! Pretty and protective…how could you not buy it?
https://www.amazon.com/dp/B08CRS2NVL/ref=twister_B088895QVV?_encoding=UTF8&th=1
It's Just A Butt Underwear $30
This item is both catchy and playful! SETATA is a NJ brand that brings a sexy, feminine version to the classic men's brief with their one-of-a-kind underwear. I don't know about you, but I love sleeping in underwear so these would be perfect to add to the collection of comfy finds!
http://www.setatawear.com/store/p13/IT%E2%80%99S_JUST_A_BUTT_underwear.html
Good Karma Bracelet Co $34
This native NJ designer and her gemstones will leave you thinking twice about how you react to things. Remember the saying what goes around comes around? Well having this around your wrist will hopefully keep your good karma in check! My personal fave is the matte stone.
https://www.etsy.com/shop/GoodKarmaBraceletCo
Stocking Stuffers For Him
Mentally Gone Tee $34
Well, if he can't admit it, at least he can wear it without having to verbally say it. Perfectly playful for that special someone in your life!
https://www.urbanoutfitters.com/shop/mentally-gone-embroidered-tee?inventoryCountry=US&color=001&size=M&type=REGULAR&quantity=1
AirPods Pro Case $9.99
Not just a gift for her, they also make masculine ones as well! Let's face it, he probably needs it more than she does anyway for protection purposes of course…just saying!
https://www.amazon.com/Compatible-AirPods-Silicone-Protective-Visible/dp/B0811WRQ34/ref=sr_1_14?dchild=1&keywords=airpods+pro+case&qid=1607908700&sr=8-14
Balls of Steel Whiskey Chillers $29.99
Something every man would like to have. This is a humorous choice for the man that enjoys a good cocktail…or two!
https://originalbos.com/products/original-balls-of-steel-whiskey-coolers?variant=10773083329&currency=USD&utm_medium=product_sync&utm_source=google&utm_content=sag_organic&utm_campaign=sag_organic&utm_campaign=gs-2020-05-28&utm_source=google&utm_medium=smart_campaign&gclid=CjwKCAiAlNf-BRB_EiwA2osbxQog2qnwwTvxFUcBm26uklJxVB4gcZMK1MElVqdhbnnvnSAeMquYeBoCq-sQAvD_BwE
Bag of Coal Whiskey Stone Set $8.50
And if he's on the naughty list this year, then opt for these instead!
https://www.kohls.com/product/prd-4464167/wembley-bag-of-coal-whiskey-stone-set.jsp?skuid=49770871&CID=shopping15&utm_campaign=GIFTING&utm_medium=CSE&utm_source=google&utm_product=49770871&utm_campaignid=9733267189&gclid=CjwKCAiAlNf-BRB_EiwA2osbxWciEzKQ8dSW37jfKKf8ckSdeRuOmw_UZyWRMef1yPOdJAuxnrndJxoCkXEQAvD_BwE&gclsrc=aw.ds
CBD Massage Cube $55
CBDissolve his pain and soothe sore muscles with this unique gift. Made with organic plant butters and oils, this cube helps to reduce pain and inflammation. Oh, and for every cube sold, the company will plant a tree with the help of the environmental non-profit One Tree Planted.
https://www.uncommongoods.com/product/cbd-massage-cube
Off to the Gym Kit $22.99
For the gym rat who is short on time. This kit has all the basic essentials for the guy on the go. Eat. Gym. (Freshen Up). Sleep. Repeat.
https://www.iwoot.us/gift-novelty/men-s-society-off-to-the-gym-kit/12063488.html?affil=thggps&switchcurrency=USD&shippingcountry=US
How Not to Become a Crotchety Old Man Book $11.08
A silly book for literally any man in your life who may need it! See something – say something. Enough said.
https://blackwells.co.uk/bookshop/product/9780740739521?gC=098f6bcd4
Jack Black Clean & Cool Body Basics Set $54
Boy wash your face. Everything he needs—and nothing he doesn't. Look good, smell good and feel good with these bare necessities.
https://www.getjackblack.com/Products/Clean-and-Cool-Body-Basics-Set__8019.aspx?SKU=8019&gclid=CjwKCAiAt9z-BRBCEiwA_bWv-OfKqhZDn-fm-tVSp5MS5FxkpVHiLE0PIvIK-oMpIgGeFc9rYf4yVxoCG3sQAvD_BwE