#Hippers living in Hoboken's Hudson Tea Building Uptown are in for a sweet treat!
Clemente Danko, owner of Choc∙O∙Pain French Bakery & Cafés (Choc∙O∙Pain), is pleased to announce their fourth location is now open on 1500 Hudson Street. This location joins their original downtown Hoboken spot on 1st Street and their two Jersey City properties, including the 3,900 s.f. commissary bakery that opened in July of 2017.
Choc∙O∙Pain is a boulangerie that creates their sourdough-based breads in the traditional European way with 4 basic ingredients using a slow, long fermentation process. The menu offers La Boulangerie: pains (breads), brioches, baguettes, viennoiseries, tartes, desserts and macarons; Le Café: Breakfast, Brunch, Lunch including: quiche, sandwiches, croques, salads, soups (vegan) and pastries. Beverages include La Colombe Espresso & Coffees, Kusmi teas, house-made specialty beverages and Alain Milliat juices; and La Boutique, a select retail assortment of hard-to-find French specialty items and cooking ingredients including: macarons, local honey and Alain Milliat jams.
The newest member of the Choc∙O∙Pain family is a 1,600 square foot, 40 seat café and retail space planned by Hoboken based Minervini Vandermark Architecture. This location also offers a private event room that seats up to 20 with options available for special events and catering for personal and business events.
Bakery and café open daily Monday-Friday 6:30am- 7:30pm, Saturday and Sunday 8am-7pm with delivery available via postmates.com. Made to order salads and sandwiches will launch shortly after opening. Best of all, street parking is available for those coming from out-of-town!
The interior will reflect a Parisian chic design aesthetic with simple rustic touches including reclaimed wood and decorative elements and offer award winning signature house made breads, pastries, and café dishes as well as specialty French retail items. A little slice of France, west of the Hudson!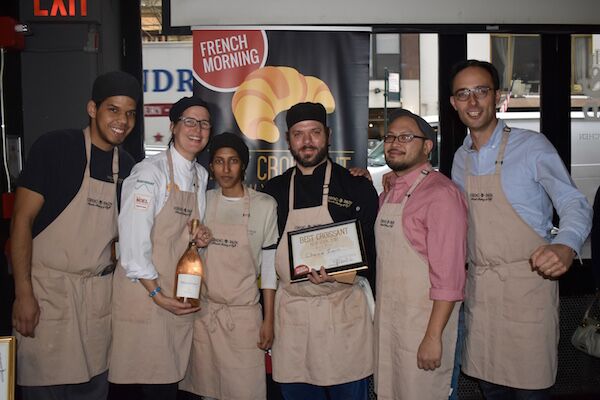 This January, the group was a selected finalist in French Morning's Best Croissant NYC juried competition. As the sole #HipNJ bakery entered, it was quite an accomplishment to receive the People's Choice New York City award for their croissant! They received this same People's Choice award in 2016 for their baguette.
Visit chocopainbakery.com for more information.