Celebrity makeup artist Keira Karlin has spent over two decades working in the television and film industry and now she is bringing her talent to NJ to help women across the state look and feel their best. Karlin opened Pretty Suite Studios, a beautiful makeup studio, inside Integrative Wellness Advisors Center in Summit just last month.
She offers clients professional make up services for events like weddings or a girls night out, and she also provides application lessons. In addition, Pretty Suite Studios offers hair styling for special events, an in house certified massage therapist, and a personal shopper/stylist. Their Integrative Wellness partners can work on your inner beauty with hormone assessment testing and create a custom supplement system based on your individual needs.
Karlin has quite an extensive background in the industry. She has lent her artistry to television shows such as Boardwalk Empire and Saturday Night Live. Her extensive celebrity client list includes Debra Messing, Lucy Liu, Former President Bill Clinton, Harrison Ford and Kevin Costner.
I stopped by Pretty Suite Studios to have Karlin work her magic on me, and to learn some of her expert tips and tricks.
How long have you been doing makeup for?
I have been doing makeup for TV, film and, special events for 25 years and counting. Its been a dream career and I'm so happy with all the amazing projects I've had the opportunity to work on. I always wanted a beautiful studio just for my private clients to experience the same exclusive beauty experience as the celebs, and to have a place to come and feel totally pampered, inside and out. Pretty Suite Studios was created for just that reason.
How did you get into the industry?
I got into the makeup industry by following in the footsteps of my mom. She worked in TV makeup as well, and was always having so much fun that I knew this was a great career and that I would always come home with a good story!
What is the most memorable job you've done?
The most memorable job I've done is hard to say. Working on Saturday Night Live was a big thrill because I had been a fan since I was 10 years old. But I'd say my best job was working on the show Are We there Yet? with Ice Cube, Terry Crews, and Darrell Hammond. We shot 100 episodes and it took about 16 months. It was very intense, and lots of fun.
Who are some of your favorite celebrity clients to work for?
I loved working with Debra Messing. She's as gorgeous on the inside as the outside. Bill Clinton has always been an honor to work with. He's truly brilliant. Also Christopher Reeve was my client for 3 years after his accident. It was extremely challenging work. He was such an inspiration to millions. Being able to work with him and his wife Dana meant the world to me.
What products should every woman should have in her makeup bag?
Products every woman needs to have in her makeup bag are concealer, lip gloss, mascara, and a translucent powder. As the day or night passes your makeup can absorb, smear, and you'll need to touch up. These items are essential for touch ups. The concealer can touch up circles and spots, the lipstick can actually double as a blush if necessary. Mascara tends to need a pick me up after a bunch of hours. If you're oily you should carry a translucent powder. My faves are either Makeup For Ever HD or Bare Minerals.
What are your thoughts on contouring and strobing?
Contouring and strobing are all the rage and have been for a long long time. They seem to be more in the limelight now because of one pseudo celebrity who's name rhymes with Bim Porpashian. What's most important to remember is NOT to overdo it and to choose the correct colors for your skin tone. For example, if your contour powder or cream is too dark you can look very stripy and if you choose a highlighter that's too white…well you can look like a disco ball! My advice is to consult with a makeup professional to find the products that work best for you, then you're good to go!
What are some of your favorite brands?
My favorite brands are Nars, Makeup For Ever and Face Atelier.
What do you use to help makeup last longer?
There are two products that are crucial to keep your makeup on longer. First is primer and last is setting spray. Primer evens out skin texture and creates a smooth layer to apply the rest of your makeup and setting spray does just that…it sets your makeup and helps it to last longer while adding a nice finish. My favorite primers are from Laura Mercier, L'Oreal Miracle Blur, and Tarte. The best setting sprays that I've tried are from Face Atelier and Urban Decay.
What are some of your favorite drugstore finds?
L'Oreal Voluminous Carbon Black Mascara, Rimmel Scandalize Liner/Shadow Crayons especially in Bad Girl Bronze, Neutrogena Oil Free Makeup Wipes, and Lash Trios from Kiss.
What is a common mistake women make when applying makeup?
Women tend to make some common mistakes when applying makeup. One is they don't blend enough. Blending is the golden rule in makeup application. Hard lines and blotches don't create that flawless look that we strive for. Another mistake is over doing it during the daytime. Very often there isn't good lighting in which to apply your makeup. Try to find natural light if possible. This will give you the best chance to control the intensity of the application. Finally, take your time and think about what you're trying to achieve. Less is more lovelies!
Lipstick vs. Gloss? Who wins?
Gloss vs. Lipstick is a very personal thing. It's really about texture and what feels the best to you. What I can say is that gloss can ride into lip lines and the use of a product like DuWop Reverse Lip Liner is essential to prevent feathering and bleeding.
What is one product every woman should splurge on?
Foundation. This is the number one splurge! A bad foundation can actually bring out flaws in the skin and ruin the rest of the makeup application. Bonus splurge is a good eye lash curler. The brands I prefer are Shu Umera and Japonesque. Everyone should curl their lashes before applying mascara, it opens the eye. A lower quality curler can pinch, crimp, and actually pull lashes out which is never a good thing.
What products did you use to create my look?
I used many different products on you to achieve this polished daytime look. I primed your skin with L'Oreal Miracle Blur, then applied a peachy concealer to hide some darkness under the eye from Graftobian. Then Motives eye shadows and Make Up For Ever eye liner, followed by L'Oreal Voluminous Mascara in carbon black. We filled in your brows with aqua liner from Makeup For Ever, and used Nars Orgasm blush on your cheeks. I contoured your face with the Motives contour palette, which is my absolute go to for contouring. Highlight cream was from Face Atelier as was the foundation that I matched to your skin tone. Finally for lips I used Makeup For Ever lip liner #51 and filled the whole lip and coated them with Nars lip gloss.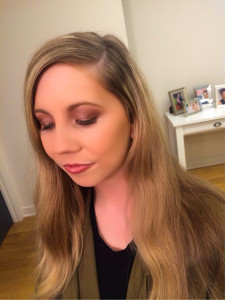 How amazing do Kelly's eyes look?!  To book an appointment, visit PrettySuiteStudios.com.  For more on Kelly's beauty picks, log on to KellyDillon.com.