Gold medal-winning Olympic gymnast and Dancing with the Stars winner, Laurie Hernandez, spoke to a crowd of over 200 people at Immaculate Conception High School.
Laurie shared her story of growing up with the dream of becoming an Olympian and what it took to win gold. She talked about her loving family, her rigorous training, her intense sacrifices, and her amazing triumphs. "Through the Felician Core value of transformation, ICHS encourages and empowers girls to be leaders and share their gifts with others. Laurie is a shining example of the core value of transformation and we were honored to welcome Laurie to the ICHS family." shared President/Principal, Joseph R. Azzolino.
Senior Maria Elisa Escobar presented Laurie with an ICHS sweatshirt: officially welcoming her as an honorary ICHS "Blue Wolf". Laurie entertained the crowd and stayed well into the evening to take selfies and photos with the excited guests.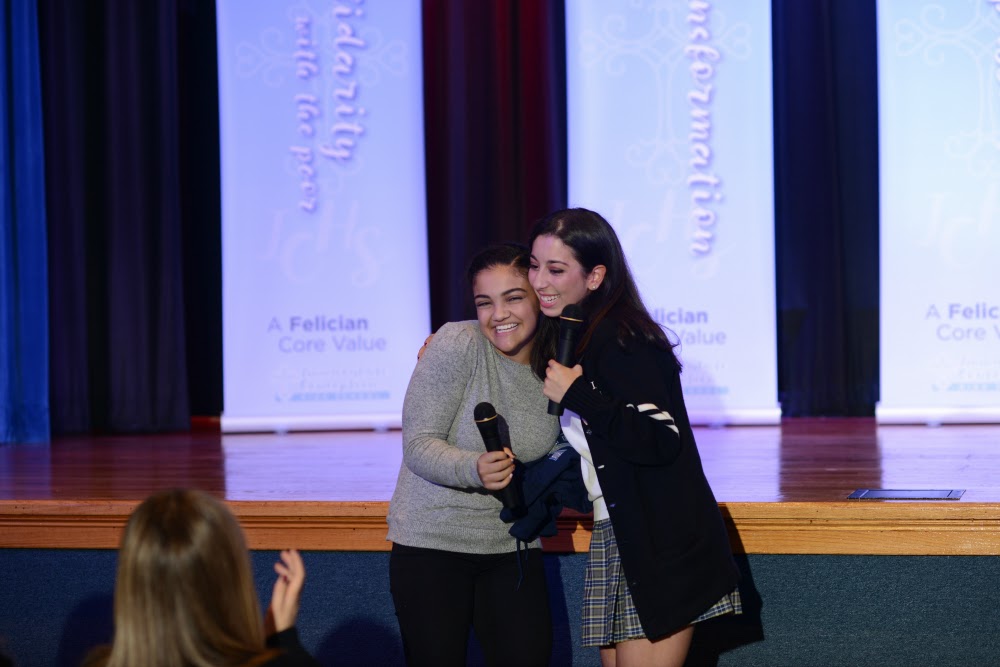 Gymnast Lauren "Laurie" Hernandez was born in New Jersey. She started her gymnastics career as a young child and steadily built a reputation for her skills and charisma on the floor and apparatus. She landed a spot on the 2016 U.S. Olympic Gymnastics team and is one of only a handful of Latinas to represent the U.S. since 1936. At the 2016 Summer Games in Rio, she won team gold as the youngest member of the U.S. women's gymnastics team, nicknamed "The Final Five," and a silver medal in the individual balance beam event.
Immaculate Conception High School educates and transforms students into young women of competence, compassion, and commitment in a Catholic Felician-Franciscan tradition of leadership and service. To learn more, click here.