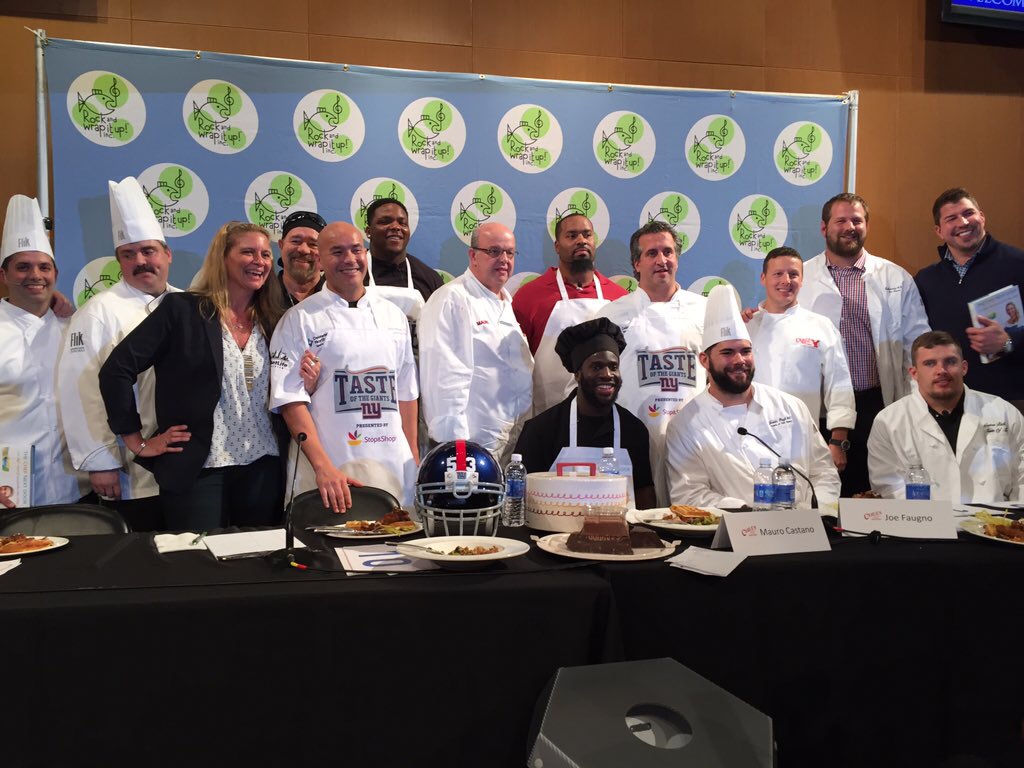 The New York Giants recently participated in a heart-pounding, high-tension contest that was decided in the last second…but it had nothing to do with football!
The Giants, along with Stop and Shop, hosted the "Taste of the Giants" event at MetLife Stadium to benefit Rock and Wrap It Up!. The award-winning charity is a food and asset recovery organization that takes leftovers from sporting events, concerts, Hollywood sets and more and gives them to anti-poverty agencies in need.  The New York Giants were the first metropolitan area team to partner with Rock and Wrap It Up!, and since then all NY/NJ sports teams have gotten on board.
The highlight of the evening was the celebrity cook-off featuring Big Blue's defensive stars (Prince Amukamara, Cullen Jenkins and Jay Bromley) versus the G-Men's offensive studs (Justin Pugh, Weston Richburg and Geoff Schwartz).  Each team had 40 minutes to whip up a dish using carefully selected ingredients that included chicken, polenta and chocolate.  After the buzzer, each side had to present their creation to a panel of celebrity judges: Former New York Giants David Diehl and Rich Seubert; Mauro Castano and Joe Faugno from TLC's "Cake Boss"; and Chef Amanda Freitag of Food Network fame.
"I gave the chefs strict instructions- don't let [the players] near any knives; we don't need any more accidents!" quipped New York Giants owner John Mara to #HipNJ's Lisa Marie Latino.  "But everyone is having a great time, we have a great turnout, and we're proud to be associated with [Rock and Wrap It Up!]."
From the beginning, the odds seemed to be stacked in the offense's favor.  Diehl and Seubert were both Super Bowl-winning offensive linemen, and according to Pugh, his unit's take on chicken and waffles was going to "explode on the judge's tastebuds".  But would that be enough to seal the victory?
While the judges gave both teams "10s" across the board, there could only be one winner.
"They were both amazing," gushed Chef Freitag.  "We loved the creativity of the offense, but [based] on flavor-ables, we felt the [defense's jerked chicken]  had the best dish."
"It was a lot of fun to be in the kitchen, but it was [even better] to beat the offense!" exclaimed Amukamara.
This goes to prove the old adage: "Offense wins games, defense wins championships!"
For more on Rock and Wrap It Up!, visit RockAndWrapItUp.org.