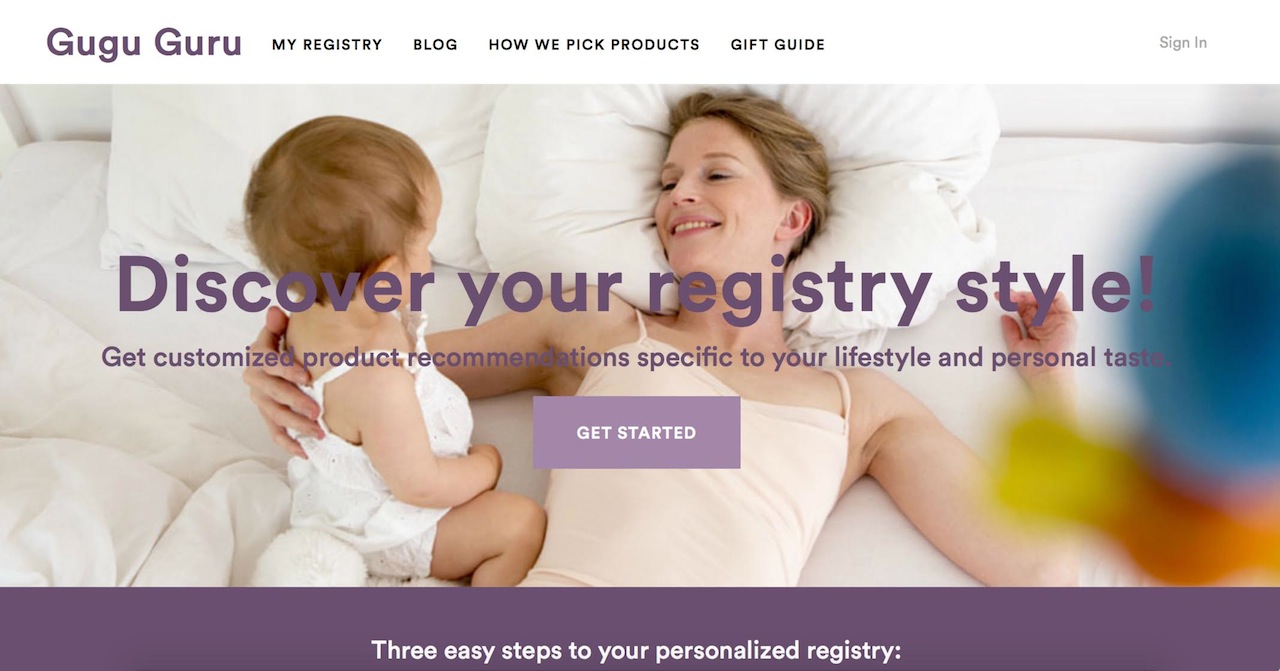 https://youtu.be/EseXZc7tsQs
The Hip List and This is It TV have teamed up to bring Garden State expectant mothers must-have items for their nest!
#HipNJ's Maria Falzo has relied on Gugu Guru as she registers for Baby #2. Gugu Guru was created by a group of baby industry experts to make what's typically an extremely overwhelming retail / baby registry experience for new and expectant moms feel personalized, fun and manageable by guiding them through the process in a really visual and fun way.  Users take a quiz and tell Gugu Guru about their personal style through a series of mood boards, their lifestyle (are they highly organic, very active, working moms, for example) and product preferences. The website then finds the best match baby products based on her answers and makes highly personalized recommendations.  The registry on Gugu Guru lists thousands of products – from the classics to new and emerging brands.
She tells host Cheldin Barlatt Rumer her favorite Gugu Guru finds:
The Lullaby Earth Breeze is a waterproof crib mattress with breathable safety cover that babies can breathe right through and helps to dissipate heat or moisture for warm bodied sleepers! The cover comes in four colors and white and serves as a waterproof protector pad that is machine washable.
Bambo Nature Diapers: You can say how they are designed to minimize the risks of diaper rash and allergies. Eco-friendly certifications illustrate our commitment to health and the environment. Super soft and ultra absorbent.
The Baby K'tan BREEZE Carrier is an innovative "ready-to-wear" baby wrap that is made of a unique cotton-mesh construction, providing added airflow for parent and baby. The carrier easily slips on like a t-shirt and can be worn in multiple positions from newborn to 35lb.
DockATot™ is a multi-functional lounging, co-sleeping, playing, chilling, and snuggling dock for baby and tots 0-36 months. Created with love in Sweden. Handmade in Europe and 100% breathable. Creates a "back to the womb" environment that helps babies sleep longer and better.
Lorena Canals: The first collection of machine-washable, eco, fair-trade rugs for nurseries and kids rooms that are safe, stylish and made in India. Designed in Spain and just launching for the first time in the US. Just toss in the washine machine and dryer and they will clean and hygenic for baby and kids.
Binxy: Binxy Baby Shopping Cart Hammock provides a soft, comfy seat for your infant and baby up to 6 months of age while you shop. Allows you to fill your cart and even supports infant car seats up to 50 pounds, leaving plenty of room for your groceries for your cart while keeping baby comfy and safe.
Finn + Emma: Chosen by Vogue as one of the 10 best eco friendly sustainable brands for babies. Modern and organic baby and toddler clothing, toys, accessories and gifts, using only the finest 100% organic cotton, eco friendly dyes, and all natural wood.
Newlie Louise Diaper Backpack- Leather Free- It can also be worn as a shoulder bag or cross body bag so you can be hands free at any time. Even better, this is the perfect transitional baby bag. With our signature interior insulated pocket, you can store baby bottles during the diaper years and snacks as during the toddler years.
Zoocchini rattles- Soft and colorful fabrics- matches their super soft buddy blankets- gentle sounding rattle
Comotomo bottles- Our bottles are designed with a naturally shaped nipple with a wide mound to help your little one make a seamless switch from breast to bottle. Soft and Squeezable, Easy to Clean, Dual Anti-Colic Vent.
Babyganics NEW Bath & Skin Essentials– At Babies R Us- bubble bath, shampoo & body wash and daily lotion- natural and plant based – Our thick, soft instant foaming shampoo & body wash is safe for eyes, gentle on skin and rinses clean, leaving your baby's hair and skin soft and nourished. And our moisturizing daily lotion the perfect finishing touch to keep baby's sensitive skin protected as it faces the world after the tub.
Lulujo Swaddles & Clips– Simply use the clips to attach the swaddle onto the car seat, stroller, or your baby carrier. You could even use them to secure a swaddle during nursing sessions! Each set includes one Messy Stripe & Confetti print swaddle along with four coordinating two-tone clips. They're currently available in four color options – aqua, blue, gray, or pink.
#HipNJ is giving away some of these #hip products, so be sure to follow us on social media to enter to win!
For more information on Gugu Guru, visit GuguGuru.com.