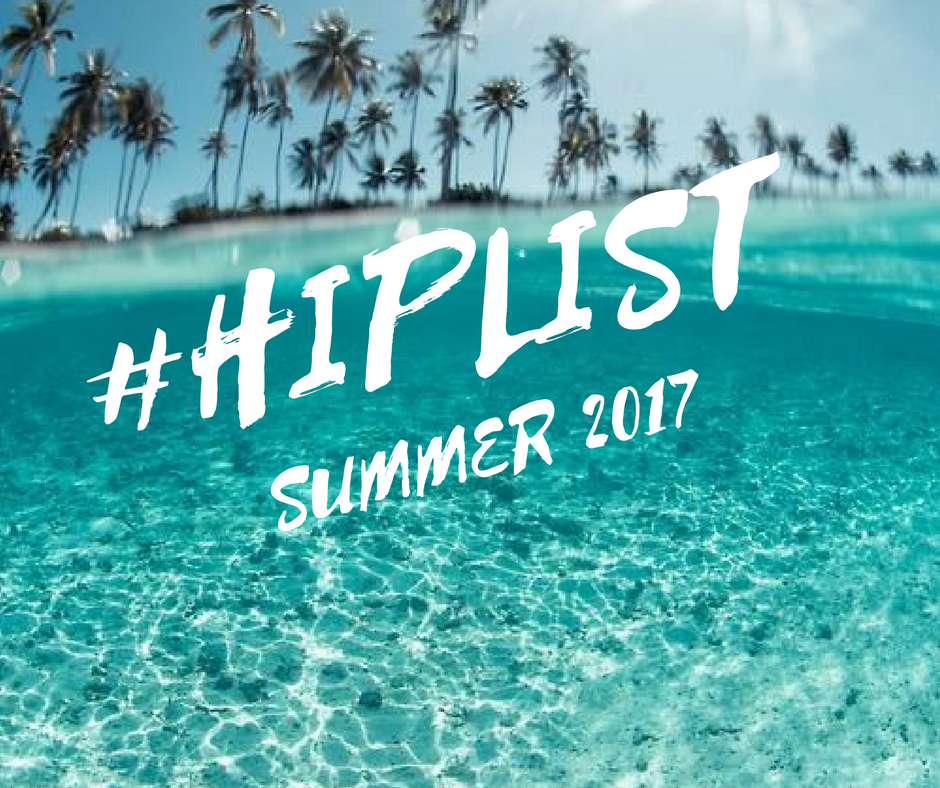 #HipNJ's Maria Falzo is here to show you her top Summer picks!
Here's how you can enter to win one of these fabulous prizes:
Facebook
Tag a friend, follow the brand and share the video to be entered into our drawing!
Twitter
Follow #HipNJ & the brand and retweet to be automatically entered to win!
Instagram
Follow #HipNJ & the brand and tag a friend to be in the contest running!
Good luck!
Miami Gorgeous is a new line of sun care products that uses organic and all-natural ingredients to keep your skin safe and beautifully bronzed. Two summer must-haves are Miami Gorgeous's LaPlaya Glow and LaPlaya Zinc. LaPlaya Glow is an all-natural self tanning mousse made from Argan and Coconut Oils, Eco-Certified DHA, Vitamins A, C and D, along with Jojoba Oil and Elderflower extract. This product will give your skin a healthy glow so you can look your best when you break out the skin-baring outfits or bikini. LaPlaya Zinc is a sun stick that you can take with you everywhere you go. The LaPlaya Zinc sun stick has a SPF of 30 and is 100% organic. This product is non-greasy and contains Organic Avocado Oil, Organic Coconut Oil and Organic Sea Buckthorn. This special extract will keep your skin hydrated.
Arthur Rubinoff is the CEO of Reamir & Co., specializing in personal grooming products for men. Reamir & Co. has launched a full line of natural products including shampoo, leave-in conditioner, hair gels, lather shaving cream, aftershave, pre-shave oil and witch hazel toner. Their natural products are based on essential oils, loaded with vitamins and are free of alcohol and harsh detergents. Your hair and skin will see an immediate improvement!
Artistry™ brand is a skincare and cosmetics line that was started in the 1950s by a woman, for women. Today, the Artistry™ brand offers specialized skincare and on-trend makeup designed to meet the diverse needs of women of all ages around the world. Artistry™ products are used and loved by almost 5 million women, with an Artistry™ product purchased every second of every day!
BeachTech Towel is unlike anything on the market. It is super-absorbent, fast drying, thin and very compact. Go ahead, stay wrapped up in one of these- they are so soft yet lightweight. Its microfiber fabric absorbs almost 3 times more water than a regular cotton terry towel. Even more impressive is how fast drying they are after use, while unlike other towels, you'd be out of luck for the day.
The Triumph Hill 4 Piece Cutlery Block Set completes your culinary passion; it's easy to feel the perfect blend of functionality and style. The high-carbon German stainless steel construction of cutlery sets from Triumph Hill guarantees maximum durability and allows you to make accurate and clean cuts. Cut and slice bread and meat, chop onions and other vegetables, mince garlic and ginger, and much more. The handles are designed to give maximum support and grip while working. Sharpen your knives effortlessly as you wish with the provided high quality sharpener!
Lisa Battaglia designs hats that reinterpret vintage aesthetics to live in the modern world. Out of Maplewood, New Jersey, Lisa draws on her unusual free-form technique and her uncanny fashion instinct. She creates dramatic hats that recall a bygone era and yet are utterly of the moment. Each hat is a geometric work of art that magically provides its wearer with more than one look through a simple turn of the brim.

Pok Pok Som drinking vinegar is a refreshing beverage handcrafted in Portland, Oregon using quality, US-made organic cane vinegar and fresh whole fruits, herbs and spices – no artificial flavoring! Pok Pok Som concentrate is most commonly served with four-parts soda water as a soft drink, at full strength as a mixer in cocktails, or incorporated into dressings and marinades. Pok Pok Som is available in nine signature flavors – Thai Basil, Apple, Honey, Pomegranate, Tamarind, Ginger, Tumeric, Pineapple and Chinese Celery, as well as a rotating selection of seasonal flavors like Cardomom Tangerine, Strawberry Thai Basil, Black Pepper, Blood Orange, and more.
You'll love the Coby Aluminum Brick Bluetooth Speaker. These speakers are light, portable, universally compatible, and have HD sound. Enjoy up to 6 hours of play time from the recahrgeable litherum-ion!
What's the Tassi? It's a patented product that makes it easy for you to keep your hair away from your face. Made of comfortable stretch terry cloth, the Tassi goes on in three easy steps and gently lifts and holds your hair. Unlike headbands, clips or turbans, the Tassi does not flatten, twist or mess up your 'do, so it's perfect for protecting second-day blowouts, too. You'll love to use your Tassi while you're washing your face, taking a bath, applying or removing makeup or whenever you want your hair out of the way.
All of Vyve's apparel is made of compression fabric that is perfect for any figure. Vyve's splashpant is a versatile capri that works on land and in water. You can wear these pants anywhere, whether you're going to the gym or simply running errands. These capris are perfect for anyone who lives a multi-active lifestyle.
Petal Fresh believes that what you put on your body is just as important as what you put in it. All Petal Fresh products are infused with natural, organic ingredients. The Soothing Body and Massage Oil is a natural exfoliator that softens skin and retains moisture. The fruit oils and organic Argan oils will leave your skin refreshed and rejuvenated. The Soothing Body Butter will smoothen and moisturize your skin. The formula is made from an exotic blend of organic Argan oil and shea butter extract.