Jeff Works – an incredibly affordable co-working space for remote workers – is located in the Hadley Center in South Plainfield, NJ. After receiving feedback from members who have used the Hot Desk plan, Jeff Works announced its new Dedicated Desk plan. This new provides additional services and accommodations to create a top-of-the-line co-working experience.
Jeff Works' workspaces are designed to counter the specific challenges faced by today's remote worker, providing a worry-free and distraction-free environment with optional private rooms for rent. The comfortable and convenient workspaces are built to supplement at-home workers' primary workspaces, allowing them to stay in the neighborhood while escaping the distractions found at home. Jeff Works meets the needs of freelancers, small business operators, students and anyone else who needs an out-of-home professional and quiet space.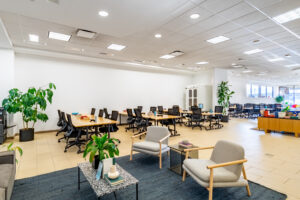 Jeff Works' Hot Desk plan gives members unlimited access to workspaces and lounges, the option to reserve private meeting rooms, access to high-speed internet, and unlimited free coffee. The new Dedicated Desk plan – launching this month – includes all of this, plus the following:
– An exclusive, private desk with dual monitors and a mouse and keyboard
– Unlimited access to private phone booths for quiet phone calls
– Free printer use for up to 120 pages per month (additional pages are available for a fee, and printing services are also available to Hot Desk members for a fee)
– A virtual office to be used as a business address (great for small business owners and entrepreneurs)
– Two guest passes per month
The Jeff Works app is a one-stop shop for booking any and all of the services available, taking the stress out of planning out the day. The app is free for download in the Apple Store and Google Play.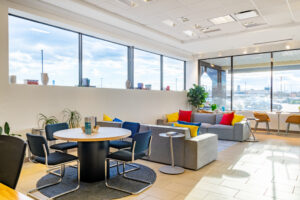 To learn more about Jeff Works, visit their website or follow them on Instagram, @jeffworks_southplainfield. To find other services – including Mr. Jeff laundry, Beauty Jeff, Fit Jeff and Relax Jeff massages – click here.