Recently I was asked to be a model for a facial rejuvenation experience with Dr. Colin Failey at The Peer Group for Plastic Surgery in Florham Park, NJ. Let me tell you all about these easy and safe procedures that enhanced my face and my experience with them.
Dr. Failey was incredible to work with. He's a Cosmetic, Plastic & Reconstructive Surgery Specialist, and he was excellent at explaining what his plan was after evaluating me in a way that I could easily understand.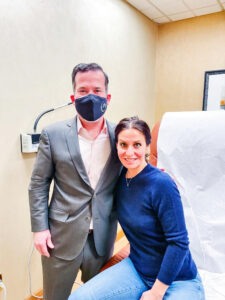 Dr. Failey explained that because I have had weight loss and I am fairly fit and lean, I had loss of volume along my cheek. This deflation was also causing shadows on my face. He said I had strong laugh lines by the mouth extending down toward the chin, and that my jawline was being interrupted on either side by the tight "connections" on my chin, making it look like I had jowls. This all sounds remarkably upsetting on paper but when he was explaining, it made perfect sense. 
To highlight the cheek, Dr. Failey said he would contour the cheek, but not inflate them.. The goal was to provide natural contour to the areas that would highlight the underlying bone structure.  By contouring the cheeks, the illusion of lift is created which brings the whole face up and makes it look less drawn and more healthy.
Ultimately, he decided to use Voluma, Juvederm UltraXC and Botox.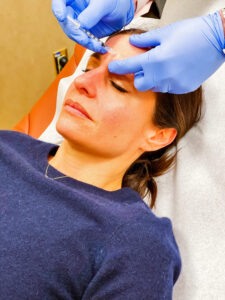 Voluma
The first thing he did was inject my face with Juvederm Voluma, which is an injectable gel cheek filler. He used  Voluma to contour the cheeks and Juvederm UltraXC was used gently along the jawline in the area of those tight connections to smooth the jawline.  
The filler gave my face an immediate improvement but it has softened and integrated even more into my face in the couple weeks since then. All of the filler is produced from Hyaluronic Acid which is a naturally occurring substance that breaks down slowly over time to water in the body. The final result from this treatment would be expected to last about 1 year — amazing!

Botox
Dr. Failey explained that I had crow's feet and that my brow had many visible lines and was asymmetrical. (This is pretty normal in most people.) He used Botox  in three areas to try and relax the muscle, smooth out the wrinkles, and to the degree possible, give some brow symmetry.
Botox results take 7-10 days to see completely. Botox can't be undone so it has to be done properly and not overdone, but I never doubted Dr. Failey once. My botox results will last about 3 months before needing to be repeated!
Do You Look Worse When It Wears Off?
Dr. Failey assured me that no, in the case of botox and filler, my face would not look worse when the product wore off.  If I like how I look (so far, 100% yes), I can get it done again, but it will not leave me with more lines or less volume than I had before the procedure.
Was It Painful?
The procedure was extremely easy to get done. The pain was minimal, and it's a next-day recovery. I'm so happy with my results and would absolutely do it again! The facility was also state-of-the-art and everyone was taking all necessary precautions. I felt very safe in my doctor's hands, as well as with the rest of the staff.